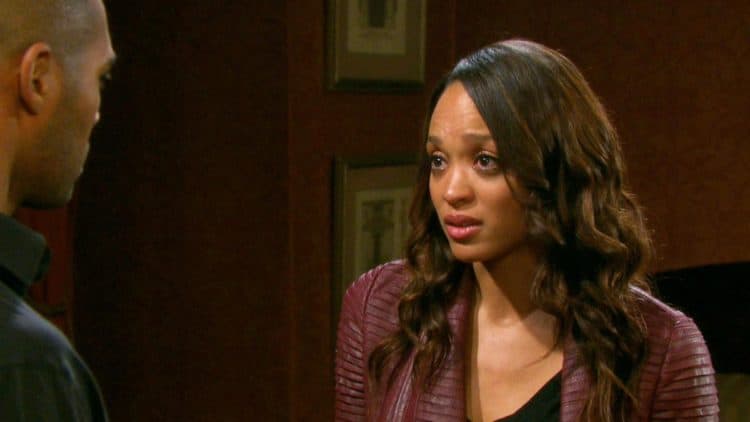 Days of Our Lives fans are sometimes given a chance to see things that don't really work out for them, and those moments are such a letdown. There is nothing we can't handle on most days, but sometimes we just feel sad about the way some things happen and some things go down. We cannot handle it, and we cannot help it, but there's a lot going on that works for us and doesn't work for us. For decades, we've been watching things happen that do not always make sense, that do not always work for us, and that do not always make us feel good. And those moments are sad. Let's go into what we feel are the saddest situations in Genoa City and how we feel about those. Can we handle what might come from some of these situations, or do we feel good about how things unfold in many instances?
Eric and Nicole
Or, should we say the lack of Eric and Nicole? For many years, we've watched as their love story unfolded — or didn't, really. We watched them work things out, try to make things right in their lives and try to get it together. But, it never really works for them. They have a situation that makes them feel as if they are going to do things in their own right, but they never seem to work out. He is always crushed about that, too, and she never seems as upset as him. There are so many things that don't work out in their favor, and she is always the one who seems to cause the issues. She always chooses to walk away from him and make things seem less than ideal, and that is not something we love. There is nothing we don't love more than to see them happy with one another, but they do not seem to want the same things from one another. He's always hurt, and nothing ever works out for them, and we feel as if that makes us sadder than just about anything else.
Gabi's Personality Changes
If there is ever anything that might make us feel constantly upset, it is the simple fact that we cannot see things working out with Gabi, ever. She's a girl who was so good, and had such a bright future ahead of her, and she was so kind for so long. To see her go through these stages in which she is not a nice girl and she does horrible things to people simply because she doesn't like the way her life is going is so sad to us. She's got so much to offer the people in her life, but she doesn't take advantage of that in the least. She goes about her business, she does what she needs to do, and she makes an effort to go out of her way to hurt people simply because their decisions are not her decisions. It makes us feel empty on the inside, and that hurts us. She's so much better than that, and we are constantly disappointed in her behavior and the way she acts, and we wish they'd give her more credit.
Eric and Jennifer
Okay, so we get it. These two have had a rough life in almost every manner of speaking, but they are two people who are so much better than this. He was the drunk driver of the car that killed Daniel, and he felt horrible about that. Her husband was killed saving their daughter, and she felt horrible about that. She and Eric had kind of feelings for one another, not that they ever went anywhere with those feelings, and they didn't do much that made them feel like or seem like good people. But, in the same vein, they also did things that didn't work for anyone — and we saw that unfold like it was our job. We are hurt for them, but we are mostly upset by the way things work out for them. The night before he was sentenced, they got together in a nasty hotel, she popped pills, he drank himself practically to death, and we hated every single moment of that situation for these good people.