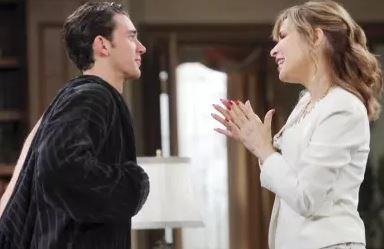 Days of Our Lives fans will see that Chad has to tell someone what is going on with his wife, and he's choosing to tell Kate. We all know she's not a big fan of what Chad and Abby have, and she'd much rather see him with Gabi. Is telling her a bad idea, or does he just need someone to talk to about things? He's probably not thinking straight enough to make the best decisions in regards to all this, so there is a good chance they might just have to make some very creative choices in their lives.
And now that he has worries and concerns about his wife, will he find it in his heart to forgive her for all she's done? She's clearly a different person sometimes, and he might not know just how far back this goes. He might have questions about how long she's been able to keep this to herself and all that she's got going on. She might not be able to keep it together, but she is his wife.
Will he find it in his heart to make it through this, or is there a chance that Kate might manage to talk him into leaving his wife and heading back into the arms of a very upset Gabi? She might not want to go there with all that's going on with Gabi, but there is a chance she might have things to deal with. Will this work for any of them?