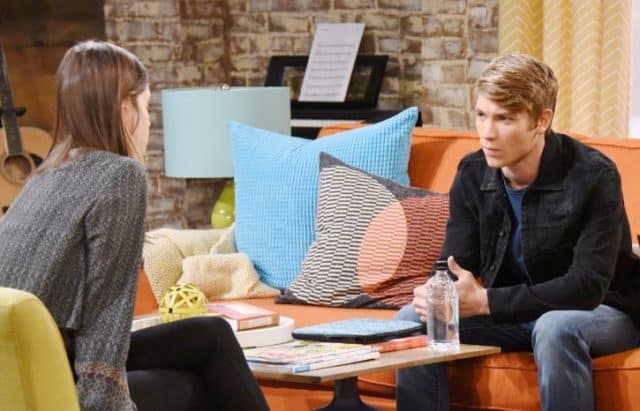 Days of Our Lives spoilers tells us there is going to be some major baby mama drama. It turns out that Chad is going to hear some bad information about Abigail and her intentions with Dario. She's not interested in beginning a relationship with him, but Kate is going to tell Chad otherwise in hopes he finally decides to move on with Gabi. She's not a huge fan of Abby for some reason, and she really can't seem to keep herself out of this couple's business. She's going to cause some serious issues for everyone involved, and it's going to mean a big custody battle in the near future. Chad is going to find out he doesn't want to give his wife custody of their child, so he's going to fight her for it. And it's not going to be a pretty fight when it occurs.
Tripp can't seem to get past the idea that his dad is responsible for the death of his mother, but he doesn't seem to think it's as he was told. He knows that Steve killed Ava. Steve told him he killed Ava, but Tripp isn't buying it. And we know that he didn't do it himself. We all know he is doing nothing more than covering for his son, and that's how he would like to keep things. So it's amazing to us that they are still working on this story line. But Tripp is not going to give up. He's going to feel that somehow it's his fault that his mother had to die, and he's going to open up to Kayla about what happened.
We also know that Jade accidentally said something that has him thinking. He's not sure what he believes at this point, but he knows that it's not good news. He knows that he can't trust his mother is dead for the reasons given to him, and it's going to cost him so much more than he ever imagined. What will Kayla say to Tripp to get him to let things go? Will she tell him it's his fault, or will she continue to lie to him in hopes that he doesn't go forward with his investigation so that her own son doesn't go down for this?