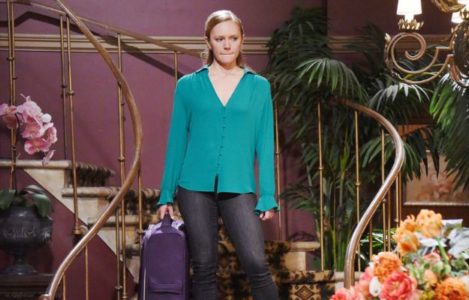 Days of Our Lives fans love when story lines are answered, and this week will bring a few of those for us. We've been talking a lot about Abigail these days, but we've not said anything about her life and the people who love her. She's left Chad at the alter, and you'd think her mother would be happy about that. Jennifer isn't a big fan of Chad, but she's learned that he has a love for her daughter. She begged her not to marry him last year, she didn't want him to have their son when Abby was dead, and things between them have never been exactly wonderful. But she's upset that her daughter would make a decision like this, and Jennifer is going to seek comfort with Eric. She's got so much anxiety, and he recognizes that. He'll do what he can to save her from her own feelings as her daughter does what she feels is best.
As for Abby, she's not too distraught over her decision. Sure, she loves her husband. She wants to be with him, but he's torn between loving two women and they just don't want that. She can't be married to a man she knows is also in love with another woman. It's not what she wants for her marriage, and no one can fault her for that. But while her upset husband seeks out Gabi to see if she can be his runner-up, Abby isn't suffering in silence. She's got someone to help her get through this sad emotional day. She's run to Dario.
She knows he's in love with her, and she's taking full advantage of that. What we want to know is if she loves him back, has any feelings for him other than friendship, or if she's just seeking solace in the arms of someone who currently loves her enough not to make her feel sad again. Will this be the beginning of a new relationship, or will these two end up with more to show than just a quick fling? We don't know where it's going to go, but we do know that they are going to end up spending far more time together than anyone imagined up to this point.