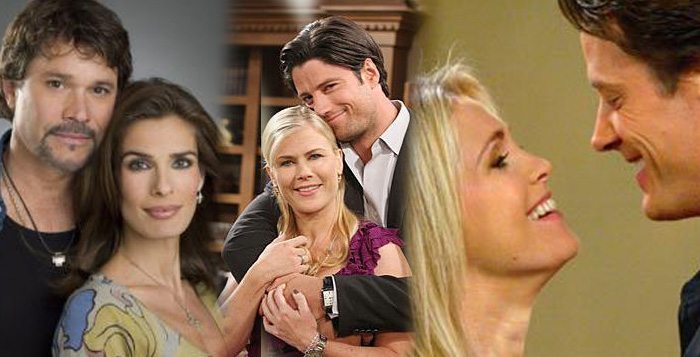 Days of Our Lives fans love a good romance, and we can all admit there are plenty of those going around right now. From the best of the best to the worst of the worst, we can see that there are some couples who have it going on. For one, we are loving Gabi and Stefan. It's a shame he's dead. We also love Ben and Ciara, though we do worry that they won't make it because of all the drama in their lives. There are a few more, too, but we cannot be sure we are listing them all here for you and not taking up all your time. We want to discuss the couples we don't love that much. The romances that didn't work for us, that don't make us happy, that don't bring joy to our lives. We want to talk about couples we do not want to see get back together. Ever. Are you with us?
Eli and Gabi
We don't want to say that we don't like them together, but we don't like them together. They don't have an ounce of chemistry, and that's a problem for us. We would like to clarify that we don't think that they are the worst of the worst, but we do think that they are okay. They are good enough to be together in a non-offensive manner. They aren't the worst couple on the show, but they just didn't have any of what it took to make us feel that they had anything worth bothering over. They just were not that good together. They were a little boring, and we have to admit that we have become quite big fans of the very crazed and very passionate Gabi. She took a minute to get where she was, though. She was boring, she was not exciting, and then she was over the top with her horrible ways, and now we like her where she is. She found some true love, and we liked it for her. But Eli is not that. He's a man who clearly doesn't want anything exciting because he cannot give it back, which is why we think Lani is good for him. She's also boring, and they can be good together.
Hope and Rafe
We are going out on a limb here with this one, but we don't want to see them together again. Unfortunately, they just don't do it for us. They seemed to have a good thing going for some time, but they refuse to communicate with one another, and we don't like that. They cannot be honest with one another. They cannot get their lives in order. They are struggling with even the most basic of things in their lives, and we get that. We get they have their issues, but we aren't fans of those at all. We do want to see them happy, but we are afraid that they will not make it their mission to be happy together. They are better apart, and we cannot deny that in any capacity. They are a mess, and we like that about them being apart. Their chemistry was good, but then it was not. It's that simple. They aren't good for one another.
Rafe and Sami
On the flip side of things, we don't want to see them together again either. They didn't have what it took to be good in the first place, and we don't think they can do that this time, either. They're not the best of the best. They're not the most romantic. They are good in terms of their chemistry with one another, but they don't do much more than scream about how they are just really good friends to us. They might make it work well as friends with benefits, but they cannot do anything else with one another that convinces us they are good in any other capacity. It's not working for us at all. They aren't good, we don't want to see them back together if she shows back up anytime in the near future, and we are good to go with that one. We want more from them. But, that's all we can say about it.