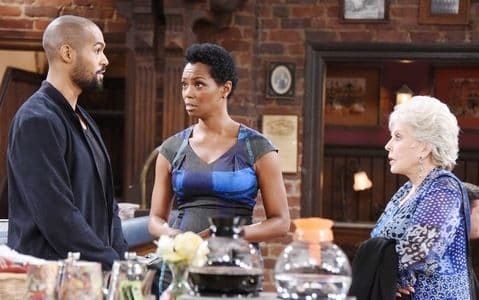 Days of Our Lives fans aren't all that excited about Eli and Gabi and the road their relationship is taking. He's got some newfound interest in Lani when he finds out she's lying in a hospital bed dying of a drug overdose and in so much pain. His good heart will get to him when he visits, and he's spending a lot more time with her. This doesn't seem good for Gabi, who seems to be the only person alone right now. She had a second chance at love with Chad, but she told him now when his wife left him. She doesn't want to be his second choice or half of his first choice. She wants to be his only choice.
Will Gabi change her mind about Chad as Eli and Lani get a little closer? Will she begin to wonder if pushing Chad away was a good idea, or will she make the decision to simply focus on her own life for a while? She seems to be a little lost at the moment, and that means she can't really focus on what might occur in the meantime. We think she's going to regret her decision to say goodbye to Chad. He was the love of her life when they were teenagers, and they have such a special bond with one another. Will she regret her decision to the point she's willing to take him back?
Or will there be another moment in time in which he is now so focused on getting his wife back that she's lost her chance? There is nothing we can do at the moment but wonder, but we have a feeling that the Chad, Gabi, Abigail, Eli drama is not quite over yet. And we know that Kate is working on Chad to spend more time with Gabi, so there is a chance that they might just do that. Who knows what might happen in this situation, but we know things might become a little bit more entertaining as a whole when they decide to make some changes.