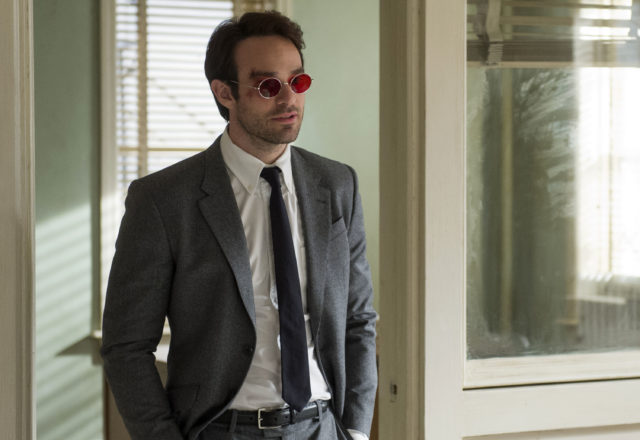 The new season of Marvel's "Daredevil" show for Netflix has just begun filming and they've released a teaser on social media to give us a few hints about what we can expect for the third season. If you've already seen "The Defenders" then there won't be any big surprises, but if you haven't yet watched it, we're warning you in advance that this post contains spoilers. We've decoded the cryptic message and here is what we believe about the newest season so far, based on what the teaser reveals.
The teaser
The teaser includes infomation about the funeral of Matt Murdock and it appears in English, moving to Braille and then back again. It says, "In LovingMemory of Matthew Murdock" and is followed by a bible quotation from the book of Proverbs chapter 25 and verse 26 stating "Like a muddled spring or a polluted fountain, is the righteous man who gives way before the wicked." The first inclination would beto believe that Murdock is dead, but this isn't the case at all. We know that Elektra and Daredevil were having it out in the last episode of "The Defenders" and the building came down on them both.
Murdock survives and we'll have a new surprise this season
Although his colleagues believed that he perished in the catastrophe, he was shown in the final scene alive and under the care of a nun. When he came to, his caregiver sent for Sister Maggie so this is a strong indicator that we're going to see the woman who gave birth to Daredevil make an appearance in the third season.
Other assumptions we can make about the latest teaser
Although there are quite a few differences between the Netflix Daredevil and the comic book version of the hero, it makes sense that there will be some elements that are adapted in the film version of the comic. We may see a closer resemblance in the history with the Frank Miller and David Mazzucchelli "Born Again." This may be a stretch in the minds of some fans but we see it as a distinct possibility. Although the adaptation for the Netflix version is not likely to be precise or even direct, we do see where there will be certain elements brought in and these will more neatly tie the two together.
In summary
We expect Murdock to keep a low profile for the first few episodes of the new season. His friends will continue to feel the loss until his real fate is actually revealed to them. He's likely to stay in hiding for a while and this could make for some very interesting dialogue and the possibility for a climactic reunion that features mixed emotions about his survival and the fact that he hid it for so long. It's highly likely that there is going to be some anger along with the relief.
New premiere
Since filming has recently started, there hasn't yet been a confirmed date for the season 3 premiere, but we believe that it will happen at some point in 2018. Netflix is enjoying the success of the previous installments which have brought them a high rating of 4.23 out of a possible 5 with a 92.4 % like rate among fans who submitted their reviews. It is one of the number one all time favorite comic television shows so we're expecting to hear news of the premiere date soon.
Tell us what's wrong with this post? How could we improve it? :)
Let us improve this post!