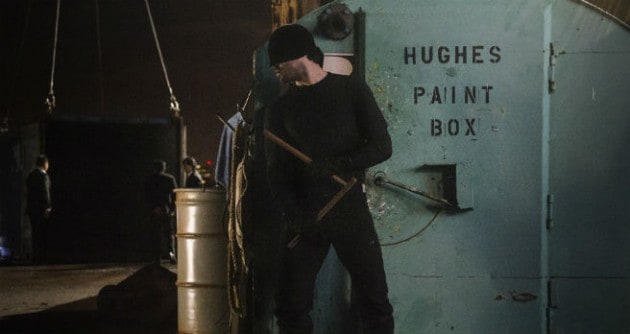 When the announcement that Marvel would be working with Netflix to release multiple shows initially came out, I knew I was getting exactly what I wanted. Daredevil kicks off the group of Netflix shows that are geared towards a mature audience and bring a darker and grittier side to the MCU. It brings a completely new tone to what they have been doing, and it's just exciting to see Marvel bring more of the characters we all love to life. Daredevil is the first of four shows that will all come together to form The Defenders, which will include A.K.A. Jessica Jones, Luke Cage and The Iron Fist. The four characters are important characters to the Marvel universe, but Daredevil is easily the best known and the perfect one to kick off Marvel's five series-plan with Netflix.
The show opens with the critical origin story of Matt Murdock and how he goes blind. I like that the show doesn't waste too much time on dragging out his childhood background right from the start. Don't get me wrong, I want the full origin story that includes showing Matt's childhood, but the show structures itself well by providing viewers with glimpses of important moments from Matt's past and how they have influenced him to become the person he is in the present. I like that this reflects the style of Arrow, because they know that viewers want the endgame of seeing the hero in his suit fighting bad guys without shying away from important origin.
In the present, Matt is working with good friend and partner Foggy Nelson to start their law careers. They don't have any clients yet, so their only option is to bribe a cop so that they have an inside connection that informs them when a crime happens, allowing them to be the first public defenders to reach the suspect. Elden Henson is great as Foggy, and I really love him as a supporting character for this show. Daredevil is a lot darker (the setting, the characters, and the action), and while it's awesome to see blood fly while Matt is beating up thugs, it's equally as satisfying to watch Foggy be his goofy, light-hearted counterpart.
I love Charlie Cox as Matt Murdock and think he's a great choice for the role. His look fits the character and his acting is solid, but he definitely lacks a distinct New York accent. There are some points where I can hear his natural British accent; however, it never bothers me too much or to the point where I can't focus on the show. I have really enjoyed Cox in Boardwalk Empire and The Theory of Everything, so it's pretty exciting to see him take on such a major role that will get him even greater exposure as an actor.
One thing that the show really nails is how Daredevil fights. While the Ben Affleck Daredevil movie poorly chose to basically give Matt Murdock the ability to see with sonar (don't worry I won't reference this movie again, because it was a complete joke), the new show takes a subtler and more realistic approach. During the fight sequences. they seem to amplify important sounds that show Matt's heightened senses and how he analyzes his surroundings and uses them to his advantage. For the non-fighting scenes, Matt is able to hone in on people's heartbeats and notice the changes in their voice if they are lying. While this is probably played up, it's fine because he is turning his disability into a superpower, and that's what makes Daredevil so great.
Daredevil is extremely darker than anything we've seen from Marvel before. While it's not really a surprise and they've talked about how Netflix would really be showing a darker side to things, I'm extremely impressed. This is the underbelly of Marvel that adults deserve, and it brings more of a realness into the MCU, because Iron Man and Captain America can't patrol every alley in New York.
The first episode of Daredevil was everything that I was hoping for and more. The show delivered on presenting Matt's backstory in a nice way that will continue to play out as the season continues. We instantly got to see Matt in the costume fighting crime as Daredevil and didn't have to wait at all. The characters all have great chemistry, and I want to see Karen (True Blood's Deborah Ann Woll) more, which should happen each episode. I absolutely loved the closing moments in this first episode. The montage of Matt training in the gym mixed with all of the corruption in Hell's Kitchen really shows that he is stepping into multiple rings. He's training, starting his law career, and beginning his task of cleaning up the city as Daredevil. I have high hopes for this show and think it's really setting the bar high for the rest of the season.
Additional Thoughts:
-The connections to the existing MCU, mainly the events from The Avengers, are nicely incorporated. The small mentions about what happened in New York and how they impacted Hell's Kitchen don't feel forced but acknowledge what was going on.
– No Kingpin just yet. I'm fine with them teasing him for awhile because he is the head of this crime organization, so it makes sense Matt has to work his way up to the final boss.
– I'm also excited to see the continued growth of Murdock & Nelson and hope that it becomes the top law firm in New York.
[Photo via Netflix]