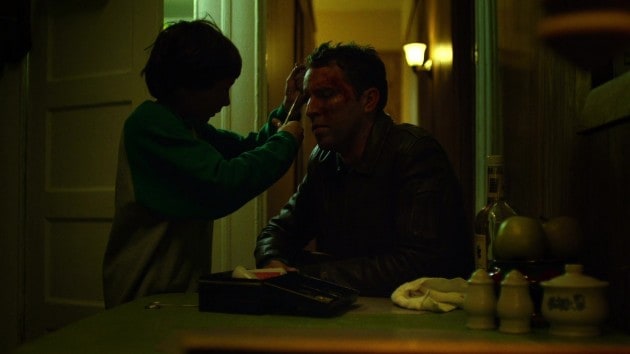 Daredevil was nothing short of impressive with its series premiere episode. The show delivered on everything that people were hoping to see in the series like more action, more extreme fights and injuries, good writing, and great characters. Daredevil was instantly a hit, and I found myself loving every second of it because it was finally bringing an adult section into the Marvel Cinematic Universe. The second episode, "Cut Man" was another solid entry into the freshman series that provided more background on Matt Murdock, as he found plenty of ways to gain more information about the crimes going on in Hell's Kitchen.
The show immediately opened with another thrilling start when Matt is found near dead in an alleyway dumpster. Luckily, he gets some help from Claire (Rosario Dawson), who is a nurse and can make sure Matt recovers properly. I really enjoyed the quick on screen chemistry between Dawson and Cox as they discussed his situation. It's great seeing him use his abilities, like when he hears people are approaching Claire's apartment. My favorite portion of that scene is when Matt limps towards the door and hides behind the wall only to have Claire re-position him to be completely out of sight. The fire extinguisher drop was also fantastic, especially Claire's mouth-gaping reaction. The interaction between Claire and Matt continues on the rooftop when he plans on getting information out of the man. The dialogue where Matt explains to Claire that she made up her mind about him when she decided to help him was awesome. Everyone in Hell's Kitchen knows how corrupt the place is but refuses to admit or do anything about it, and Claire realizes that Matt is one of those people who will stand up and is worth helping.
The flashbacks were again really good in this episode. The scene where Jack comes home to have Matt stitch up his face was touching. Having him take a sip of the scotch so his hands won't shake was a smart, interesting bit of writing and just reflects how fond the father and son are of one another. It was sad to see Matt discover his father was being paid so much to purposefully lose matches, but this brings everything to a humble end when Jack decides he would rather die knowing his son heard the fans chant his name. He takes care of Matt financially by betting on himself, but seeing the small boy identifying his father's face was really sad.
I really like the relationship between Foggy and Karen as well, and the scene in which she initially hears him singing in the office when he believes nobody else is present was really funny and charming. There time spent out "not on a date" was fun because both characters deserve to relax a little bit. It was nice to see Karen connect with Foggy through explaining that she can't get the blood off of her apartment floor and doesn't want to go home. It was really nice to see her open up and that he had the ability to be sincere and a great friend.
Daredevil delivers even more violence throughout "Cut Man," whether it's Matt taking people out or Jack receiving some punches to the face. There was a pretty dark scene where Matt stabs the guy above his eye. They didn't show the wound completely, but it was still brutal to think about. Right after Matt threatens the criminal one final time on the edge of the rooftop gets the information he wants, the guy continues to taunt Matt so he throws him off anyway. The action scenes are staying violent through two episodes, and I think it's a good balance of knowing when to not take things over the edge.
The one-take final scene with Matt just walking into the Russians hideout and taking them all out was amazing. The scene was really well choreographed and featured just enough of that comic feeling. I love how the thugs continued to get up and still give Matt a pretty good beating. In the end, he saves the kid and walks away knowing he did well. The episode revealed that there is a problem with the Chinese and Russians running a child trafficking business, which doesn't sit well with Matt. He's out for justice and seeing him stroll into the final fight un-phased about what he was walking into was sweet.
This was another solid episode of Daredevil. I really loved all of the writing and character interactions. I really can't wait to see Matt begin to get deeper into the mystery and start facing off against some higher up baddies.
Extra Thoughts:
– Intense to watch Matt have his lungs unclogged.
– It's funny seeing Karen and Foggy show up at Matt's house in the middle of the night extremely drunk.
– "You can't give in to the fear. If you do, men like this win."
[Photo via Netflix]