In the enchanting world of Regency-era romance, not many characters hold a light to Daphne Bridgerton. With the recent success of the hit Netflix series Bridgerton, viewers are increasingly fascinated by the characters. It's safe to say that Daphne's journey from a young debutante to a formidable force defying societal expectations is fascinating.
Portrayed by the talented Phoebe Dynevor, the character embodies grace, intelligence, and resilience. As the eldest daughter of the Bridgerton family, she navigates the glittering halls of London's high society, making strategic connections and discovering her desires along the way. With her captivating narrative and complex relationships, Daphne has left a lasting impression on fans worldwide. Let's take a closer look at this layered character.
Daphne Bridgerton's Age And Role In The Series
Daphne Bridgerton, the eldest daughter of the esteemed Bridgerton family, is introduced to viewers as a young debutante on the cusp of her first social season. In Regency-era England, Daphne's age of 21 when she made her debut is crucial. Altogether, it determines her eligibility for marriage as well as her place in society. Being from a prominent family, she's expected to make a suitable match, securing her future and the reputation of her family.
As the series progresses, Daphne's age becomes less of a defining factor. Instead, it's more of a backdrop to her personal growth and character development. While still young and inexperienced in matters of the heart, her age doesn't limit her determination to find true love and defy societal expectations. She evolves from a naive debutante to a strong-willed woman. As such, her age is a mere number in the face of her wits. While Daphne's age serves as a foundation for her character, it is her strength and resilience that truly defines her.
Her Character Evolution Throughout The Series
From the moment viewers are introduced to Daphne Bridgerton, her character undergoes a transformative journey. Initially portrayed as a young and innocent debutante, Daphne's evolution throughout the series is as contrasting as day and night. At the beginning of the series, she's portrayed as a daughter who adheres to the expectations placed on her. However, as the story unfolds, she questions these expectations and discovers herself.
Altogether, her character evolution is a testament to her strength. It's a powerful tool as she navigates the complexities of love, relationships, and societal constraints. Throughout the series, Daphne learns valuable lessons about herself and the world. Her character development is marked by moments where she challenges the norms of her society and fights for her happiness. However, it's clear that Daphne's evolution is not without its flaws. Naturally, she makes mistakes and faces the consequences of her actions at times. However, it is through these trials that she emerges as a more empowered woman.
Daphne Bridgerton's Relationships And Romantic Journey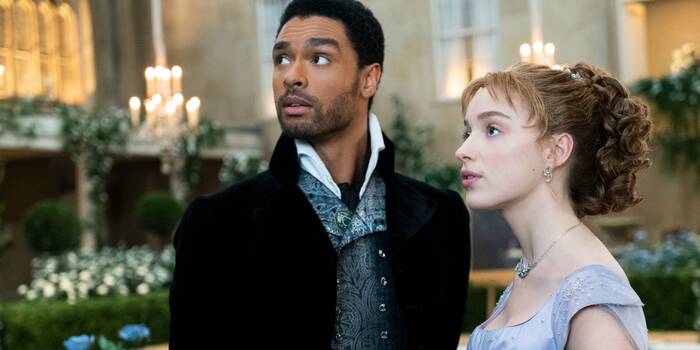 At the heart of Daphne Bridgerton's character is her romantic journey that's one for the ages. From her initial encounter with the dashing Duke of Hastings, Simon Basset (Regé-Jean Page), to her eventual marriage, her relationships drive the narrative forward. Daphne's relationship with Simon is a central focus of the first season of the series, as their passionate connection sets the stage for a bit of drama.
Their love story is one of intense emotions, misunderstandings, and ultimately, growth. Daphne's unwavering love for Simon and her determination to fight for their relationship showcases her resilience and commitment. Beyond her relationship with her husband, Daphne's interactions with her family members, particularly her siblings, provide insight into her character and values. The bond she shares with them is a source of strength and support, and it is through these relationships that Daphne learns important lessons about love, loyalty, and forgiveness. Needless to say, her romantic journey isn't without its challenges, as she faces heartbreak, betrayal, and societal expectations.
Daphne Bridgerton's Fashion And Style
In addition to her captivating character development, Daphne Bridgerton's fashion and style have become iconic elements of the series. From the intricate ball gowns to the delicate accessories, every aspect of her wardrobe is meticulously crafted to reflect a true Regency period belle. Overall, Daphne's fashion choices are a reflection of her status as a member of the Bridgerton family and her place within high society. The elaborate and often whimsical gowns she wears showcase her femininity and grace, while also adhering to the fashion trends of the era.
However, it's hard not to notice the attention to detail in her dresses. From the fabrics to the intricate beadwork, everything adds depth and richness to her character. Daphne's style evolution throughout the series is subtle yet significant. As she discovers her desires and challenges societal expectations, her fashion choices become bolder and more assertive. From soft pastel hues to vibrant jewel tones, Daphne's wardrobe reflects her transformation from a young debutante to a confident woman unafraid to defy convention.
Tell us what's wrong with this post? How could we improve it? :)
Let us improve this post!