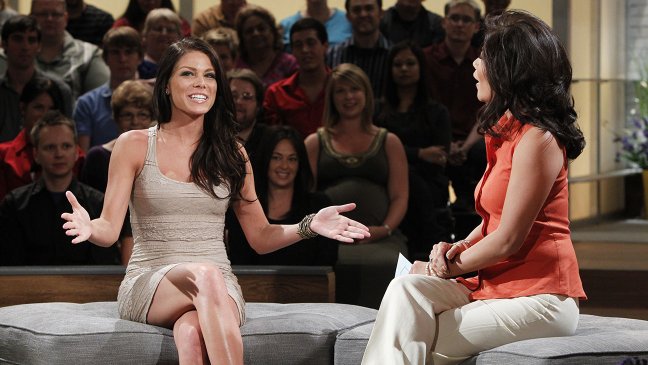 Everyone seems to know Daniele Donato. She's been part of the Big Brother series more than once, and she's practically family. In fact, her family has also taken party in the show – namely her father, Dick Donato. She's also married to another person from the show, so there does seem to be a lot of family history here. We want to know more about her now that things are taking off in her life in every aspect, so sit back and get ready to know more about her than you ever thought possible.
1. She's an 80s Baby
She was born on August 20, 1986. She spent about four years living in the coolest decade, but she did get to grow up in the 90s. This means she went to school without cell phones and social media. Texting and driving when she first got her license was not something her parents ever had to worry about, and she had to use things like the encyclopedia to write her book reports. It was good times, honestly.
2. She's Not Close to Her Father
It's been said more than once that she and her father are not close and they are estranged. He has a nickname that is more than a little unflattering, so we get it. He's known as Evel Dick, which doesn't say much about him at all. He also starred on the same show she did, won season 8, and had to leave the season they were on together when he had some personal issues arise.
2. She's in College
Before she began her reality television career, she was a waitress in Huntington Beach, California. SoCal is gorgeous, but she didn't want to stay there and do that forever. She wanted to make sure she had something else going for her, so she's now in college working on a better and brighter future for herself and her family.
4. She's into Dating Co-Stars
She's currently married to one of them. Her husband was her best friend on the show before they decided they were romantically interested in one another. His name is Dominic Briones. Before she dated and married him, however, she dated another housemate. His name was Nick Starcevic.
5. She's a Mother
What we love about this young woman is that she's a mother with the cutest little girl. She also picked the most adorable name. Her daughter was born on August 20, 2018 – the same day her mother turned 32 – and her name is Tennessee Autumn.
6. She Didn't Grow Up with Her Parents
We already mentioned that she is not close to her father, but we hear that she is not that close to her mother, either. It seems that whatever happened to her during her childhood involved her parents not raising her. We don't know what that means, but we do know that she was raised by her grandmother, and so was her brother.
7. She's Been Married a While
She and her husband met in 2011, but they did not start dating right away. However, they were quick to realize after the began dating that they were meant to be together, and they got married in 2013. They welcomed their first baby after five years of marriage, and they were very happy about that. They seem like a sweet family.
8. Her Husband Adores Her
If there is one thing that he makes very clear about his wife, it's that he doesn't feel he deserves her. He mentioned it when he announced that they were having a baby a few years ago, and he seems to feel the same way about his daughter. His humble feelings are very sweet.
9. She's Happy
Take a look at her Instagram photos and her social media presence. She and her husband are obviously quite happy, and so is their little girl. She's actually quite adorable, and we cannot wait to see photos of the family as they get ready to celebrate the little one's second birthday soon (as well as mom's birthday).
10. Everything Has Worked Out
She didn't win the seasons she was on reality television, but it seems to us that she won in life. She met the man she'd marry, who gave her the most beautiful baby, and she seems to be where she needs to be in life right now. That makes her fans feel so good about her.
Tell us what's wrong with this post? How could we improve it? :)
Let us improve this post!