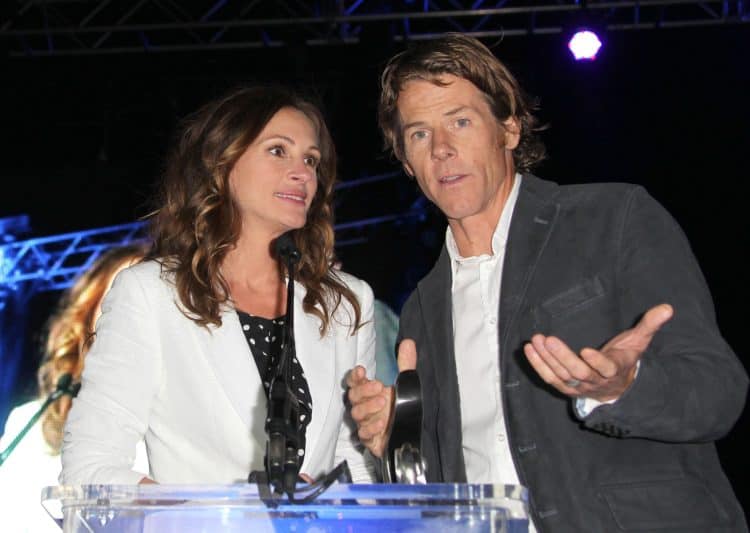 Even though Daniel Moder has been married to one of the most famous women in Hollywood for almost 20 years, most people probably don't even know. That's because Daniel and his wife, Julia Roberts, are both very private people. Those who do know about the couple's relationship, may not realize that Daniel is also a star in his own right. He has been working as a cinematographer for more than 20 years. Along the way, he has gotten to work with some very talented stars including his wife. Most recently, he worked on an upcoming movie called Flag Day. Keep reading to learn 10 things you didn't know about Daniel Moder.
1. He Is A Los Angeles Native
Each year, there are countless people from all over the United States and other parts of the world who flock to Los Angeles with hopes of making it in the entertainment industry. Luckily for Daniel Moder, he didn't have to do all of that. He was born and raised in the area and attended Santa Monica High School.
2. He And Julia Roberts Met On A Film Set
Daniel met Julia Roberts in 2000 while the two were working together on the film The Mexican. He was married to make-up artist Vera Steimberg at the time, however, they divorced in 2002. Daniel and Roberts married shortly after. There has been speculation that Roberts was the reason for the break up of Daniel's first marriage although this has never been confirmed.
3. He Studied Psychology
Due to what Daniel does for work, most people probably figure that he went to college to study film. That, however, isn't true. Daniel attended the University of Colorado Boulder where he earned a bachelor's degree in psychology in 1992. It doesn't appear that he ever worked in the psychology field, however.
4. His Father Is A Producer
Daniel isn't the first person in his family to pursue a career in the entertainment business. His father, Mark Moder, is a successful producer who has more than 50 production manager credits to his name. Based on his IMDB page, Mike has not done any production work since the late 1990s.
5. He Is Very Adventurous
If there's one person who is making sure to live his life to the fullest, it's Daniel Moder. He is the kind of person who is all about having new experiences and he isn't afraid of a little adrenaline rush every now and then. He loves doing things like skateboarding, hiking, mountain biking, and surfing. This zest for life is something that he has passed down to his children as well.
6. He Practices Hinduism
Since Daniel is a private person, it goes without saying that he hasn't really discussed his religious beliefs in public. However, we do know that he has been practicing Hinduism for several years. According to an article from Amo Mama, Julia Roberts converted to Hinduism after her role in Eat, Pray, Love and Daniel eventually followed suit.
7. He Likes Taking Pictures
As someone who has spent his entire career behind the camera, it's probably not too surprising that he also likes to be behind the scenes in his personal life. Daniel might not think of himself as a photographer, but his Instagram profile makes it clear that he loves taking pictures and he's a natural at knowing exactly when to snap the perfect memorable moment.
8. He Was Nominated For An Emmy
In the entertainment industry, people's careers are often judged based on whether they've ever won — or been considered for — any major awards. This isn't just true for actors. In 2014, Daniel was nominated for a Primetime Emmy for Outstanding Cinematography for a Miniseries or Movie for his work in The Normal Heart. The movie also earned him an OFTA Television Award nomination for Best Cinematography in a Non-Series.
9. He Is A Dog Person
There may not be any science to prove this, but most people would agree that knowing whether someone is a dog or cat person can give you insight into someone's personality. For those who were wondering, Daniel seems to be a dog person all the way. He has two dogs who have made quite a few appearances on his Instagram profile.
10. He Has Worked On Lots Of Commercials
People who are familiar with Daniel's work know him mostly for the movie he's worked on. However, over the years he has also done lots of other kinds of projects including commercials. Through his commercials, he has gotten the chance to collaborate with some very well-known brands including Duracell, Ford, and Infiniti.
Tell us what's wrong with this post? How could we improve it? :)
Let us improve this post!