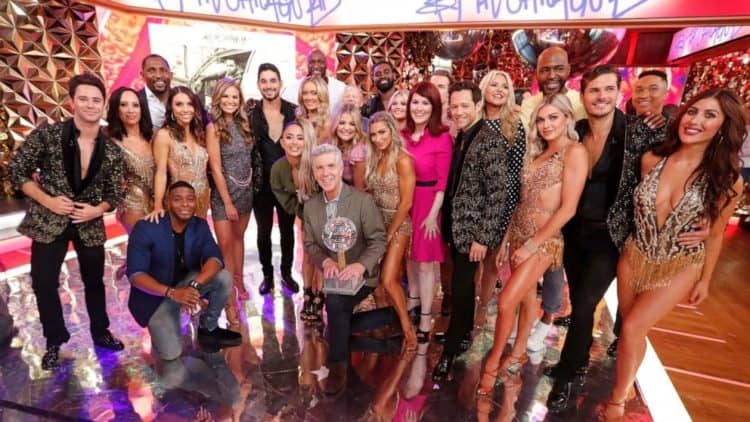 It's official- the DWTS lineup has been announced, and it's as awesome as ever. After months of rumors, the full lineup of the 2019 season of the hugely popular dance competition was revealed exclusively on Good Morning America on Wednesday, 21 August, and already, social media is ablaze about one or two of its additions. Before we move onto the celebrities, just a quick word on the pros. You'll be pleased to know all your old favorites (Valentin Chmerkovskiy, Sasha Farber, Alan Bersten, Brandon Armstrong, Gleb Savchenko, Keo Motsepe, Witney Carson, Peta Murgatroyd, Lindsay Arnold, Jenna Johnson, Emma Slater, and Cheryl Burke) are back, along with 2 new additions in the form of Daniella Karagach and Pasha Pashkov.
And now the fun part… joining the professional dancers are (in no particular order): culture-vulture Karamo Brown, Bachelor alumni Hannah Brown, actor James Van Der Beek, supermodel Christie Brinkley, country superstar Lauren Alaina, NBA star (and former husband of Khloe Kardashian) Lamar Odom, ex Fifth Harmony member Ally Brooke, former NFL star Ray Lewis, actress Kate Flannery, comedian Kel Mitchell, music legend Mary Wilson, and, perhaps most surprisingly (and certainly controversially) of all, former White House Press Secretary Sean Spicer. In a surprise departure from the show's usual format, the partner pairings won't be revealed until the season premiere. For now, we'll have to contend ourselves with learning a little more about this year's celebrity dancers:
Sean Spicer
Let's start with the man that's been causing all the bother among DWTS fans, Mr. Sean Spicer. The former Press Secretary resigned from his position in 2017 after getting himself embroiled in all kinds of controversies during his tenure (a word to his replacement, Sarah Huckabee Sanders: sparring with reporters and making up false claims doesn't tend to sit well with the voters). "Bad choice, @DancingABC. He lied to the American people as Press Secretary. He dodged questions. How is it okay for you to choose this deceitful man to compete for the mirror ball trophy? #BoycottDWTS". "Professional liar to the American people, Sean Spicer, is legitimized by ABC.#boycottDWTS". "It's disgusting that Dancing With the Stars has cast Sean Spicer. The man lied to our country repeatedly and debased our government – all while promoting an agenda of hate. Don't watch," are just a few of the less than complimentary twitter comments Yahoo has managed to round up. The network hasn't commented on the backlash yet- maybe it's hoping the first sight of Spicer in sequins will be enough to win us around.
Karamo Brown
Fans of Queer Eye for a Straight Guy will know 38-year-old Karamo Brown as the culture expert with a fine line in snazzy suits and helpful advice. Brown is clearly looking forward to the show, although whether it's the opportunity to dance in front of millions or the chance to wear some truly spectacular outfits that appeal the most, we're not quite sure. "I want the sequins, I want the moves, I want it all," he said on "Good Morning America."
Hannah Brown
Hannah Brown might not have found her one true love on the Bachelor, but she's hoping to put her engagement to two-timing suitor Jed Wyatt behind her as she dances her way to success on DWTS. "I'm so excited. I want a fresh start, and I think dancing is something that I can do that with," she told GMA.
James Van Der Beek
Who can forget actor James Van Der Beek from the 90s teen drama, Dawson's Creek? These days, Van Der Beek is a father of two and is looking forward to making his kids proud with his dance moves on DWTS.
Christie Brinkley
Legendary model Christie Brinkley may be starring as Roxie Hart in the all-singing, all-dancing production of Chicago on Broadway, but she's been quick to slam any suggestion the experience has given her a head start over the other competitors. "I can barely get my leg up and believe me, what I learned in 'Chicago' doing the honey rag, you cannot — dance to Beyoncé doing the honey rag, so I need some moves,' she explained to GMA.
Kate Flannery
Star of The Office, American Housewife and Brooklyn Nine-Nine, Kate Flannery, is looking forward to casting aside her dowdy TV characters and showing off her glamorous side on DWTS- whether her tango will prove as good as her deadpan delivery, we'll have to wait and see.
Lauren Alaina
Dancing with the Stars isn't county singer Lauren Alaina's first experience of putting her talents on display on TV; a few years ago, she came runner up on the 10th season of American Idol. This time around, she's got her fingers crossed she makes it even further.
Lamar Odom
Up to now, he's been best known as an NBA player, former husband of Khloe Kardashian, and occasional brothel creeper. Could this season of DWTS chance our perception of the former bad boy Lamar Odam for good?
Ally Brooke
26-year-old Ally Brooke has already shown us she can move thanks to her time with the pop group, Fifth Harmony- although who knows if her ballroom will be as good as her pop moves?
Ray Lewis
Whether former NFL linebacker Ray Lewis will prove as successful at winning dance trophies as he was at winning Super Bowl championships, who knows?
Kel Mitchell
Kids of the 1990s may know Kel Mitchell best as one half of the 1990s Nickelodeon sitcom Kenan & Kel, but the actor, rapper, musician and standup comedian has shown he's got what it takes to sustain a career in entertainment. Whether or not this includes being a whizz on the dance floor, only time will tell.
Mary Wilson
Last but by no means least is the iconic singer Mary Wilson. As a founding member of the Supremes, Wilson's contribution to music will live on for eternity. Will her contribution to dance do the same?