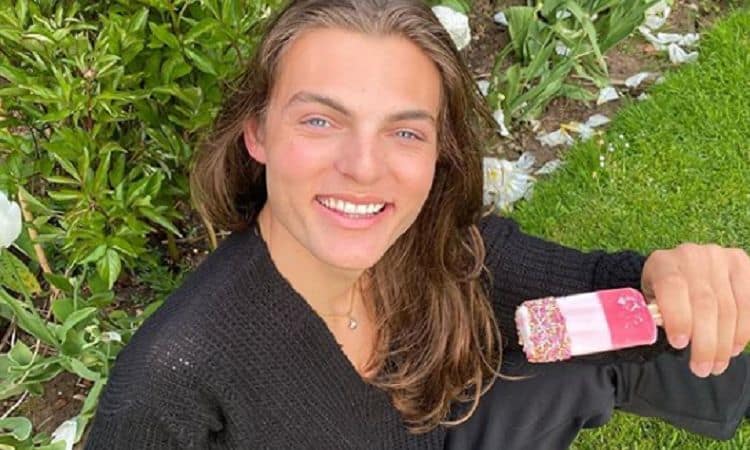 Good genes beget good genes. That's surely the case with the Hurley family. Famed model and actress Elizabeth Hurley announced she was pregnant with American businessman Steve Bing's son. That was in 2001. Bing denied Hurley's claim, but DNA results proved that Damian Hurley is indeed Bing's child. The child is now grown up, and he's ready to break into the modeling industry. He recently had his debut modeling for Pat McGrath's skincare line, and everyone's amazed at how much he looked like a young Elizabeth. Damian is rocking the androgynous look, for sure, but there's more to this kid than meets the eye. Here are 10 things you probably didn't know about Damian Hurley.
1. Early life
Damian was born on April 4, 2002 in London, England. He spent some of his childhood in Gloucester during the time when his mother was married to business giant Arun Nayar. Damian had a good country life upbringing, but he didn't live in an average rural house. He grew up on a £2.7 million estate that's filled with all sorts of farm animals including 82 pigs, 63 sheep, 49 cows, 8 chickens, 4 Labradors, 3 geese, and 2 cats. If that's not magical for any kid, we're not sure what is.
2. Godfathers
With such a high-profile mom, it was natural for Damian to be surrounded by equally high-profile people. In fact, Damian's list of godfathers is something many of us could be envious about. Damian's godfathers include Elton John, Denis Leary, Hugh Grant, and David Beckham. Those names are some of the biggest celebrities around, and we're sure that Damian will be taken care of regardless of what happens in his life or his mom's life.
3. Australia
There was also a time in his life when Damian moved and lived in the land down under. Damian spent some time in Australia because his mom was dating an Australian cricket player, Shane Warne. That relationship was actually fairly serious. Elizabeth and Shane were together for 3 years and were actually engaged towards the end.
4. Acting
Around the time Damian got into modeling, he actually started doing some acting work. In 2016, he was cast in The Royals, an E! Network show that also starred his mother. Damian portrayed the role of Prince Hansel von Liechtenstein. He was 14 years old at the time. So far, The Royals was Damian's first and only acting gig. He played the role of Prince Hansel for two years until 2018. With his modeling career just taking off, the 17-year old might be focusing on that for now and putting acting on hold.
5. Modeling
Damian started modeling when he was only 13 years old. He modeled for Pink House Mystique, an independent brand by Lotty Bunbury. Currently, Damian is signed with model agency Tess Management. The company is fairly new, having only been launched since 2009 by Tori Edwards and Sian Steel. Damian was under this agency when he landed Pat McGrath's gig as his formal modeling debut. This campaign is getting Damian a ton of attention, and it might be his ticket to his own spotlight.
6. Mom
It's clear that Damian and his mom Elizabeth have a bond like no other. The mother and son duo are often seen posing together on Instagram, and they dote on each other often. Damian has called Elizabeth the best mom ever, and Elizabeth has done the same for her son. She calls Damian the best man in her life. Considering all the relationships that Elizabeth has publicly gone through over the years, it's a great thing for these two to have developed a solid relationship. There's a good chance that Damian might be following his mom's footsteps, but that's something that remains to be seen in the future.
7. Money
From the beginning, Elizabeth refused any financial assistance from Damian's father Steve Bing. Bing didn't believe that Damian was his son; and upon finding out the truth from the DNA results, he offered to give Elizabeth and Damian £100,000 a year until the kid turns 18. Elizabeth ended up putting the money into a trust fund that Damian will inherit when he turns 18 years old next year. That's a solid amount of £1.8 million for Damian. It might not be a replacement for a father, but Damian at least has something solid to start his life on.
8. Sister
Damian is an only child for Elizabeth, but he actually has a half sister. Steve Bing's other child, who was also conceived around the same time Damian was conceived–different mom of course–is Kira Kerkorian. It's unclear whether Kira or Damian had ever had a relationship or if they have even met at all. According to Steve Bing's father, neither children will get any financial support from him at all because Steve never brought the children around in his family.
9. Social media
The young teen is starting to make a name for himself. These days, someone's Instagram account is a good measure of just how popular a person might be. With 34,000 Instagram followers, Damian already has a few fans rooting for him. We can imagine this number to increase dramatically in the next few months, as he gets even more exposure.
10. Photography
Elizabeth has gotten some slack in the past for letting her son take pictures of her in skimpy outfits. According to the teen, he doesn't mind taking shots of his mother, especially when they're on vacation. According to Elizabeth, her son has a good eye for taking photos, and he's actually a student of photography. Basically, they told people to just mind their business and leave be–we totally agree.
Tell us what's wrong with this post? How could we improve it? :)
Let us improve this post!