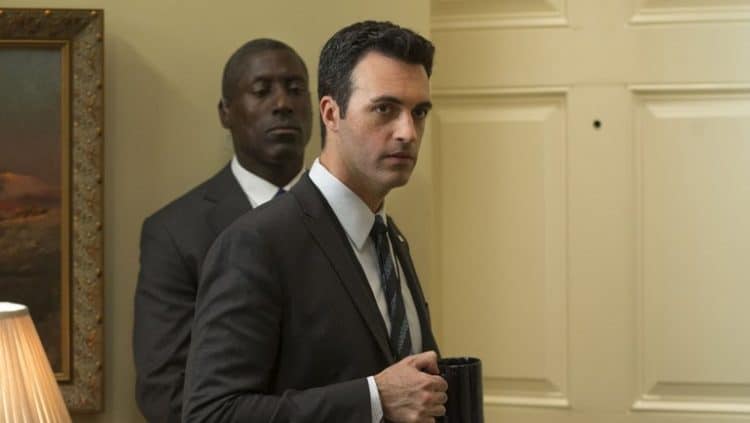 Reid Scott is an actor who shot to prominence playing Brendan 'Brando' Dorff in the comedy TV series 'My Boys'. He is also well-known for his role in HBO's comedy series 'Veep' in which he played Dan Egan, the Deputy Director of Communications. Scot was born in Albany, New York, on November 19, 1977. When he graduated from Syracuse University, he moved to New York City with the intention of pursuing a career in acting. He began his career in 'Cargo', an off-Broadway production before moving on to acting in television commercials. Since then, his acting career has gone from strength to strength with roles in television series including 'It's All Relative', 'The Big C', and 'Motorcity'. He has also had roles in many movies with the most recent being the 2017 film 'Home Again', in which he played Justin Miller.
Here are five things that you probably do not know about Reid Scott.
1. His Stutter Led to an Acting Career
Scott had an unusual introduction to acting. When he suffered from a stutter as a child, his mother decided to enroll him into acting classes as she believed it would help him with his speech. He was in the sixth grade of school at the time and it was then that he fell in love with acting. Therefore, suffering from a stutter inadvertently led him to his future career.
2. He Briefly Attended an All-Boys Military Academy
Reid Scott briefly attended an all-boys military academy when he was a teenager. While he was there he took part in several of the school's productions. These included a variety of Shakespearean plays and a stage version of 'Dead Poets Society'.
3. He Was Cut from 'The Intern'
An announcement was made in June 2014 that Reid Scott was to play the part of a cocky and smooth-talking young businessman in 'The Intern'. It is a 2015 movie that was written, produced and directed by Nancy Myers and starred Robert De Niro, Rene Russo, and Anne Hathaway. However, following filming, Scott's scenes were cut from the movie.
4. He is Married to Elspeth Keller
On June 21, 2014, Scott married his longtime girlfriend Elspeth Keller, a writer and actress. She wrote and starred in 'Before Breakfast', a comedic period short. Their wedding took place at Maguire Gardens in Downtown Los Angeles in front of 120 guests including many celebrities. The couple has a son Conrad together who was born on March 31, 2015. This is the second marriage for Scott as he was previously married to Lisa Petrazzoio from 2004 to 2007.
5. He is the Voice of Turbo
Turbo FAST is a Netflix original animated series that is based on the 2013 movie 'Turbo'. In this, Reid Scott is providing the voice for Turbo, the main character. Turbo FAST is the first DreamWorks Animation series that they have produced for Netflix and it is also the first Netflix original series that is specifically aimed at children. The first episode was aired on December 24, 2013. Others who provide voices include Eric Bauza, John Eric Bentley, Amir Talai, Grey DeLisle-Griffin, Michael Patrick Bell, and Phil LaMarr.