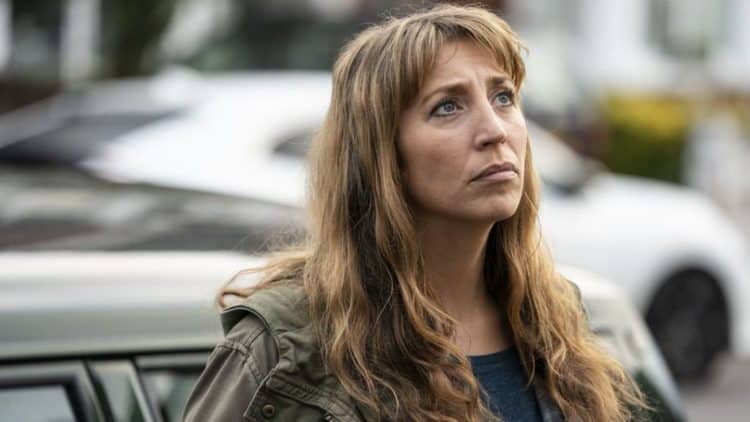 Over the last few years, Daisy Haggard has established herself as one of the leading lights of UK TV. Known best for her comedy performances (who can forget her show-stealing turn as Myra Licht in Episodes?), she's back on familiar ground this year with Breeders, a laugh out loud comedy that follows the day-to-day life of a married couple (Haggard and Martin Freeman) as they struggle to navigate the world of parenthood. Find out more about its star with these ten little facts.
1. TV Debut
Haggard made her TV debut in 1996 in an episode of the ITV crime drama, The Ruth Rendell Mysteries. The episode was, coincidentally enough, directed by her father, Piers. However, despite what you'd think, her casting was more the result of hapchance than nepotism: during the auditions, Haggard impressed the producer enough on her own merits for him to want to cast her, while Piers, who was clearly worried about setting his daughter on the notoriously unstable path of acting, fought (thankfully unsuccessfully) against the decision.
2. LAMDA Graduate
Despite opposition from her father, who'd have rather Haggard become a writer than an actor, appearing on The Ruth Rendell Mysteries clearly gave Haggard the encouragement she needed to pursue acting further. Determined to learn more about her craft, she applied to the London Academy of Music and Dramatic Art (LAMDA), graduating from the prestigious school in 2000.
3. The Ministry Lift
You probably don't recall Haggard from any of the Harry Potter films, but believe it or not, she played an integral role, despite never getting any actual on-screen action. In both Harry Potter and the Order of the Phoenix (2007) and Harry Potter and the Deathly Hallows: Part 1 (2010), Haggard provided the voice of the Ministry Lift. Other films she's lent more than just her voice to include I Give It a Year (2013), Calloused Hands (2013), and Alright Now (2018).
4. Comedy Gold
Since landing her first TV role in 1996, Haggard has become most associated with comedy roles. Some of her finest performances to date include Emmy on Green Wing (2004), various characters on Man Stroke Woman (2005- 2007), Kierky / Kierkegaard on The KNTV Show (2006-2008), Myra Licht on Episodes (2011- 2017), Chrissy on Parents (2012), Sam on Uncle (2014-2017), and Miri Matteson on Back to Life (2019).
5. Seeing the Good
In Breeders, Haggard plays Ally, a foul-mouthed parent who, despite loving her kids, would sometimes just as soon as abandon them. It's not the first time Haggard has played someone a little less than angelic, but as she explained to Decider, finding the humanity, even in the less than godly, is something that fascinates her. "I like finding the humanity in people that do bad things," she explained. "I can't relate to people that are 'Everything's perfect and amazing'. I'm a happy person but I love and am interested in those vulnerabilities and imperfections. I am fascinated by those moments where we're not perfect when we make mistakes. They're the parts that make you human."
6. Surprised by Success
Getting cast in Breeders clearly came as something of a surprise to Haggard. Fresh from just having a baby, and having had no time to learn her lines, she staggered through the audition… but clearly impressed while doing so; according to co-star Martin Freeman, there was never any doubt she'd be perfect for the role. "I was very surprised that I booked the part because I was so confused and tired," she's since recalled, "I was studying the script, the whole time, because I hadn't had time to learn it. I felt like the least professional person. I had like a breast pump in my bag and no make-up on. I was shocked when I got the part."
7. Move over, Phoebe
Ever since Fleabag took the world by storm, Phoebe Waller-Bridge has been the new It girl for confessional comedy. But if Haggard's recent success with Back to Life, a bleak comedy she not only created and wrote but starred in, is anything to go by, Waller-Bridge might have some stiff competition on her hands. As soon as the first episode aired, the comparisons started coming in thick and heavy. So far, Haggard has been pleased with the comparisons, although she's keen to point out the difference between the two shows. "It's a fair comparison to make," she told IndieWire. "I'm honored to be mentioned alongside Fleabag. I think it's amazing, but we've got different voices. When people watch it, they find they're very different."
8. Free the Imagination
Haggard may come from a family of hugely talented men (her father is the stage, film and TV director, Piers, her grandfather was the actor and poet Stephen Haggard, and her great-great-great-uncle was adventure author H. Rider Haggard), but it's her mother who can take the credit for her daughters' creative streak. "We weren't allowed to watch much TV," she recalled to the LA Times. "It was always, "Go off and play. Make your own things.". I remember once I was at a jumble sale and I managed to get an old, slightly damaged Barbie. All I wanted then was a Barbie Jacuzzi. My mother just handed me a margarine container and said, "There you go!"
9. Keeping Her Chin Up
Anyone who watched Back to Life would have been struck with the ineffable optimism of lead character Miri — even when life throws her lemons, she somehow contrives to make lemonade. It's a characteristic she shares with her creator Haggard, who told The Atlantic. "I can have a good cry if things go wrong and then I'll say, 'Okay! What's next? Everything's going to be fiiiiiine.'"
10. Drowning in Frazzles
During her promotion of Back to Life, Haggard took to Twitter to list all the food things viewers could eat as they watched it. One of the things she mentioned was Frazzles. Soon enough, and much to the mirth of her friends, Haggard was being inundated with floods of the bacon-flavored snacks from fans. "My friends were like, "You had one shot. You could have said, 'I really like Stella McCartney dresses.'" she told the Los Angeles Times. "Now you've got eight free packets of Frazzles instead of eight bottles of Champagne."
Tell us what's wrong with this post? How could we improve it? :)
Let us improve this post!