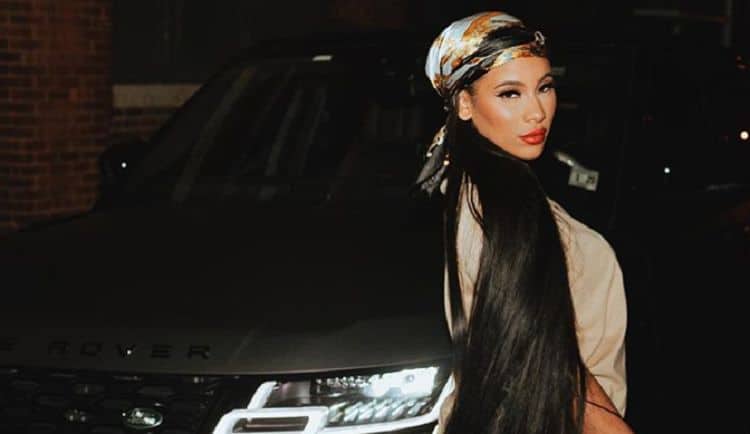 Cyn Santana isn't even 30 yet, but she's already what most would consider an internet veteran. Still, she's one of those people that has managed to become famous without most people even knowing why. The answer is actually pretty simple, though. She was an influencer before it was technically a thing, and she still has a massive social media presence. At this stage in the game, Cyn has done a little bit of everything. From reality TV to music, she has shown that she is much more than just a pretty face. As a single mother, Cyn continues to work hard to create a legacy for herself and her son, all while enjoying the ride. Keep reading for 10 things you didn't know about Cyn Santana.
1. She Dated Erica Mena
If you've been a Love and Hip Hop fan since the early days, you'll probably remember when Cyn made her first appearance on the show back in 2013. At that time, the main focus of her story line was her relationship with fellow cast member, Erica Mena. Erica is now married to another Love and Hip Hop star, Safaree Samuels, and the couple has one child together.
2. Leaving Joe Budden Was The Best Decision She Ever Made
Cyn Santana and Joe Budden started dating in the summer of 2016. Although Joe Budden's relationship history has been a little rocky, everyone thought the couple was in it for the long haul. They even got engaged in 2019, but unfortunately ended up going their separate ways shortly after. In an interview after the breakup, Cyn said, "I did what was best for my mental health, my peace and for me and my son…I'm probably the happiest I've ever been and that was probably the best decision that I've made in my entire life. In the 26 years I have of living on this earth, the best decision I made was leaving that relationship. And my son and I are amazing."
3. She Lost A Brother To Suicide
Several years ago, Cyn suffered a very tragic loss when her older brother, Joelle, committed suicide. Looking back, Cyn realized that he had always been kind of withdrawn, but the thought of him being suicidal never crossed her mind. After his passing she began to use her platform to speak out for suicide awareness.
4. She Got Her Start On YouTube
Most people who are familiar with Cyn Santana know her from Instagram or reality TV, but she actually got her start on YouTube. She first started posting parody videos on the platform where she would dance and lip sync to popular songs. Unfortunately, she has since deleted those videos from her account.
5. She's An Advocate For Mental Health
Mental health is something that lots of people are scared to talk about out of fear of looking weak. However, more knowledge surrounding mental health is something that could benefit us all. Cyn Santana is a firm believer in the importance of mental health and is a strong advocate for people taking care of themselves.
6. She Has No Regrets About Making Her Relationships Public
So far, Cyn has had two very public romantic relationships, both of which didn't end well. Some people would assume that these relationships being so public is part of what led to their demise, but Cyn doesn't agree. During an appearance on The Real, she said she has no regrets about making her relationships public. She likes to love out loud and she'll probably do it again.
7. She Received Back Lash For Comments She Made About Black Women
One thing that people tend to forget about the internet is that things never really go away. Once you start to get a big platform, everything you've ever said or done online will eventually get brought to the surface. Cyn Santana learned this the hard way when comments she made on a podcast in 2016 started to circulate in 2019. During the podcast, Cyn commented that Black men treat Latina women than Black women when it comes to relationships.
8. She's Been In Several Music Videos
Long before she started making music of her own, Cyn has already had some experience in the music industry. She's appeared in several music videos over the years with some of the biggest artists in the industry. In 2012, she appeared in the video for the hit single "No Lie" by 2 Chainz and Drake.
9. She Started A Clothing Line
On top of being an influencer and a reality star, Cyn is also all about her business. In 2016, she started a clothing line called NU. However, it appears that the business was short lived. The website is no longer active and the line is no longer being promoted by Santana.
10. She's All About Positivity
Cyn Santana has come a long way since her early days in the spotlight. Although she used to spend a lot of time at the center of drama, it appears that she has grown and moved on from that. These days she's all about using her platform to spread positivity and good vibes.
Tell us what's wrong with this post? How could we improve it? :)
Let us improve this post!