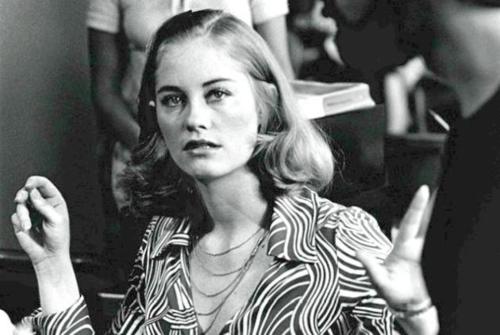 Want to know something interesting about Cybill Shepherd? Her first name stems from a combination of her grandfather and father's names, Cy and Bill. Now that we've got that out of the way, she came from a pretty moderate household, her father managed a home appliance business and her mother was a homemaker. But when she was 16 Cybill won the Miss Teen Memphis contest and from that point took to modeling from high school on. So you can assume that she might have just been meant to be famous since she started out so early and she's always been considered attractive enough to pass for a great many parts. Plus her acting talent, as it grew, was something that bolstered her attempts to be taken seriously on the big screen and became one of the reasons why she was allowed to stick around. You don't get to stay in Hollywood just by being a pretty face after all.
Starting Out
Cybill's first film was The Last Picture Show in which she starred with Jeff Bridges and Timothy Bottoms. The movie was a hit and earned several awards, and Shepherd was even nominated for a Golden Globe. Following this she was given a part in The Heartbreak Kid with Charles Grodin. That movie was also a hit, but in 1974 her career took a bit of a dip when she tried for the titular role of Daisy Miller. The film was an absolute flop and did nothing to enhance her career. In that same year she launched her singing career, which didn't do much. The next year she starred in another film, At Long Last Love, which also flopped. Thankfully when Martin Scorcese stated that he wanted a "Cybill Shepherd type" for his new movie Taxi Driver she was available and ended up portraying the woman with whom Travis Bickle became obsessed with. This film thankfully earned her great reviews and went on to become a cult classic.
Her role seemed kind of dry next to De Niro's but she was an important part since she was the love interest that Bickle sought out and the obsession that only worsened his decline as he continued to grow more and more restless. Obviously this pairing wasn't going to work out on film but the chemistry the two of them had in making the dysfunction seem real was great. In fact Shepherd stated that De Niro was kind of frightening in his role when he really got going, which is why she considered him to be such a great actor. The ironic part is that she almost dismissed the script entirely when she saw that her character had no lines in it. Obviously there were some revisions.
Unfortunately a series of less than successful roles followed for Cybill. She eventually moved back to Memphis to work in regional theater after gaining advice from her good friend, Orson Welles. She'd taken a lot of lumps at this point in her career and definitely needed a reminder of just why she was pursuing a place in the film industry, so going home was obviously the right choice.
Her Return to Hollywood
It was 1982 when Cybill returned to New York and took to the stage. After playing in a theater tour she then went back to Los Angeles and won the role of Colleen Champion in The Yellow Rose, starring with Sam Elliott. The series only lasted one season but it received a great amount of attention. Only a year after that she was cast as Maddie Hayes on Moonlighting, which would eventually become the role that would define her career. But her continued success depended on the chemistry she would have with her costar, and as a result she was involved with the selection of Bruce Willis. Thanks to her role on this show and the onscreen dynamic between herself and Willis she landed two Golden Globes during her time on the program.
Shepherd went on to become a well known and respected actress after this even when her star began to dim now and again. Thanks to efforts like Taxi Driver and Moonlighting however she was never again considered supbar and has been respected ever since. In fact in 2000 she released a bestselling autobiography that was titled Cybill Disobedience: How I Survived Beauty Pageants, Elvis, Sex, Bruce Willis, Lies, Marriage, Motherhood Hollywood, and the Irrepressible Urge to Say What I Think. That's one heck of a title for a book, and yet it still helped to keep her career afloat as she spent one year on the show Men Are from Mars, Women Are from Venus before leaving in 2001. She was given a part on the show The L Word up until it ended in 2007, and then she joined the cast of Psych as Shawn's mother, Madeline.
&feature=youtu.be
She made her Broadway debut in 2012 in the revival of Gore Vidal's The Best Man along with James Earl Jones, John Stamos, John Laroquette, Kristin Davis, and Elizabeth Ashley. It gained several positive reviews which only continued to help her career. Throughout her stint in Hollywood and on Broadway however it seems that Cybill has never been beyond controversy despite the fact that her career has been quite an up and down affair that finally culminated in a legacy that she could be proud of. There are a few things in her past though that at this point she might have reconciled with, but are still interesting to learn.
Personal Life
It's not usually the business of anyone else to know just what goes on in the lives of others, but in this case when such information seems given so freely it's hard not to wonder at some of the things people do. It's very easy to eschew any political and religious leanings or practices since those are quite personal and don't serve the purpose this article is intended for, but if you want a few interesting tidbits, here we go. Apparently Cybill dated Elvis in the early 70's and cared a great deal for him, but she couldn't handle his drug dependency and eventually moved on from the king. At one point she even dated Jack Nicholson, but apparently it was a ploy to make her current boyfriend jealous. Needless to say Jack didn't care for that and wouldn't speak to her for years. She didn't care for working Charles Grodin and it even took her many years to finally have a one night stand with him. She was asked out on a date by Robert De Niro, but much to her regret she turned him down. He'd only talk to her on the set after that.
It seems that Cybill has had a busy life in Hollywood and a somewhat controversial one at best sometimes. But you know what? She's still a legend.
Tell us what's wrong with this post? How could we improve it? :)
Let us improve this post!