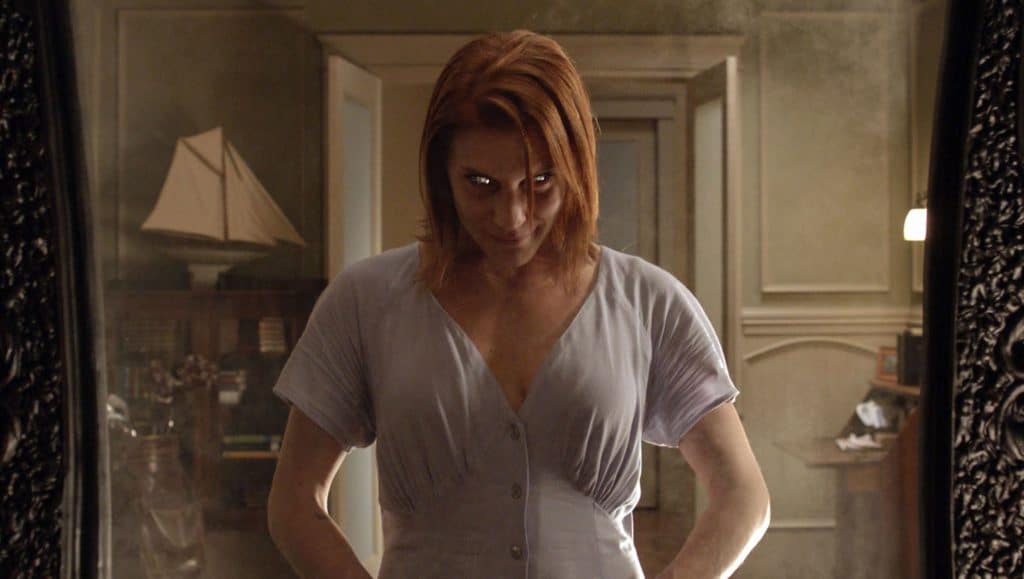 Curses are kind of funky when it comes to movies since pretty much anything can be cursed, from an innocuous object to a human being, to something that kind of defies an easy explanation. The reason for this is that curses are without a doubt one of the most diabolical ways to control someone or to exact some type of revenge on them. A curse being lifted in a movie is a rare thing indeed since if it can be lifted then there's nothing to say that it was ever that strong in the first place. Most curses in the movies tend to be strong enough to weather quite a few things since it takes something very strong to be rid of a curse, and a lot of people in the movies aren't ready or willing to make such a sacrifice or don't know how to do so in the first place. This is why such movies are a little bit predictable, but also unpredictable until one figures out what the curse is all about. Here are ten movies that use curses in very interesting ways.
10. A traveling curse – It Follows
This is one of the strangest curses to ever come along since it's a sexually-transmitted curse that attracts an entity that begins to follow the person it's been passed to, and it won't stop until it kills the person it's attached to. Funny enough, it will attack the person that passed it along next, which makes a person wonder when it would possibly be done, if ever.
9. Cursed bracelet – The Mummy Returns
Whether it's real or not, Egyptians in the movies appeared to love placing curses on every other thing they created, since the Bracelet of Anubis is one of those that would attract a great number of thieves unless they knew what it really did. Not only does it lead the way to one of the most dangerous creatures ever created by a god, but it would also suck the life force from a person upon reaching the location.
8. Eternal Sleep – Sleeping Beauty
Some would no doubt point out that the spindle that Aurora pricked her finger on would be the cursed item, but the curse was caused by the catalyst that was the spindle since Aurora fell into a deep sleep soon after. There are people that would love to be smart alecks and say that sleeping for a while would actually be kind of nice, but this kind of sleep is enough to make anyone think a little of something could go a long way.
7. Cursed puzzle box – Hellraiser
To think that the puzzle box was created as a toy is kind of laughable since this little thing has caused more damage than it was worth for several movies. The summoning of the Cenobites to the realm of earth has created the storyline for several different movies that have pushed the idea that pain and suffering can be glorious, but definitely creepy.
6. Cursed house – The Grudge
If all it takes to create a cursed house is to feel a strong emotion upon dying it's fair to state that there are likely a lot of cursed homes around the world since there are plenty of people who don't die quietly or in peace. But in the real world, these feelings might be possible to ascertain, even if they're not nearly as deadly as those in this movie.
5. Demonic Curse – Drag Me to Hell
Do you get the feeling that people in the movies don't have access to literature and movies like those in the real world do? One thing that a person should be willing to think about is that you don't upset a gypsy woman to the point that she lays a curse on you for being an unyielding individual that won't help her out.
4. Cursed VHS – The Ring
This might need a reboot eventually just to make sure that people aren't wondering why a VHS cassette is so creepy, since these days if a Blu-Ray disc or even a streaming show started to pull this kind of cursed behavior it would be a serious problem. A VHS would simply be left sitting in a box somewhere by most people.
3. Cursed Car – Christine
The truly amusing part of this idea is that after all these years, cars are becoming less reliant on humans as the act of driving is becoming less and less of a concern thanks to automatic functions. Things haven't reached the point where everything is totally automated yet, but it feels like we're getting there.
2. Cursed Mirror – Oculus
Perhaps the most frustrating part of this curse is that the young woman actually sought this thing out and wanted to risk herself and her brother to get rid of it finally. I get it, the thing killed her mother and father, but there are times when you consider yourself lucky to have escaped something this dangerous. Trying to mess with something you don't understand is rarely a good idea.
1. Cursed to Lose Weight – Thinner
A lot of people wouldn't see this as a curse until they could start playing their ribs like a xylophone, and at that point, it would be too late to do much of anything about it. This was actually the least disturbing of the curses laid down in this movie to be fair.
Seriously, movie curses are a little confusing at times.