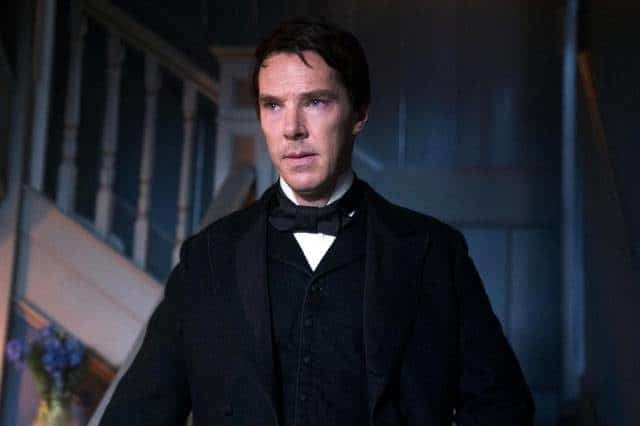 Benedict Cumberbatch looks to improve upon his "Best Performance by an Actor in a Leading Role" Oscar nomination for The Imitation Game. Cumberbatch plays well-known inventor Thomas Edison in a movie that revisits a historical American technology duel between Edison and George Westinghouse. If this sounds like it has all the interest of reading an Error 404 page, you may be in for a tech surprise. Keeping it unscientific, the two battled to determine how your homes and businesses would be powered for the next 100 years — and beyond. The winner stood to become a household word in the world of electricity.
There are no spoilers here, even if you have a more than a basic knowledge of the battle (or maybe are 100 percent committed to watching every single episode of The Big Bang Theory). The battle is between AC and DC but has nothing to do with any performance by the rock group's "Back in Black" or some sort of breakup. When scientists were polled as to what was the world's greatest invention ever, they did not vote for the wheel, but electricity. That shows how much scientists know because electricity is actually a natural occurring phenomenon.
From the current trailer, expect a movie that is dark in more than one way. Remember, the story is set in the days before electricity was commonly available. There will be plenty of incandescent lights, the kind that began being phased out about five years ago. The battle appears to involve a lot of skullduggery, but both men were smart enough to know that whoever won would control the future of the world. There is a mention of Tesla in the movie, which is an interesting way to inject a modern relevancy to it.
With a scheduled release date of November 24th, 2017 it will be interesting to see how The Weinstein Company will build up interest. Cumberbatch has established himself as a box office draw, and when you consider the subject matter of The Imitation Game it is hard to dismiss the possibility of another historical-technology box office success with him as the lead. With Nicholas Hoult from the X-Men movies and Michael Shannon playing George Westinghouse, a strong supporting cast has been assembled to give The Current War more than a fighting chance at the theater. Whatever the reason for the appeal of Cumberbatch, he manages to make intellectual characters more human than intellectual, especially their flaws.
Early voting on the movie at Rotten Tomatoes has 100 percent of the potential audience interested in seeing the result. Directed by Alfonso Gomez-Rejon, the movie is a snappy 105 minutes in length (an hour and 45) so expect it to make its points quickly and keep moving. His most recent directorial efforts, including the 2014 The Town That Dreaded Sundown and Me and Earl and the Dying Girl in 2015, also run under two hours.
The film also casts Katherine Waterston (daughter of Law and Order's Sam Waterston) playing
Marguerite Westinghouse, Tom Holland as Samuel Insull, Edison's business collaborator, and Tuppence Middleton as Mary Edison.
Tell us what's wrong with this post? How could we improve it? :)
Let us improve this post!