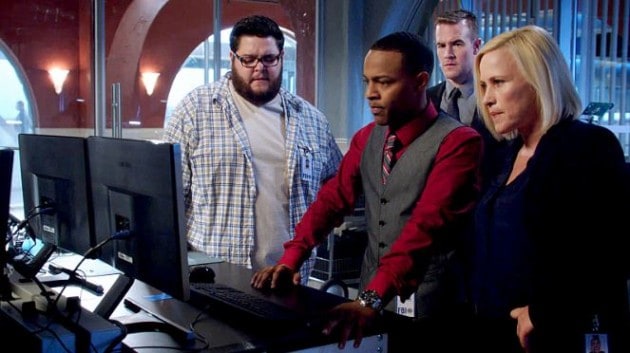 The second installment of CSI: Cyber gave us another case that could have been featured on the original CSI if it weren't for the cyber connection. The episode begins with a roller coaster crashing into another, killing three people and injuring many others, which then led to the cyber crime element of the show.
The manner in which the crime was committed is too scary to think about given that today, mostly everything is being operated on, or controlled by, technology that runs on Bluetooth or computer code and that same technology and code can be accessed by anyone who has the resources to do so. We have come to depend on technology so much that we have incorporated it into everything. From sound systems to televisions that can be turned into touch screens to cars that can sense danger on the road and parallel park themselves. It's an advancement to be sure, but there's also the possibility that someone with a dark mind and purpose will use this advancement to his or her advantage simply for the prospect of being amused or aroused.
Like the scene where Agent Krumitz used the same Bluetooth technology that was used to disable the roller coasters' emergency braking system to control the cyber crime lab's elevator with his smartphone, it's fascinating yes, but cyber criminals will use it to harm people much like what happened at the Thrill Country amusement park in Richmond, Virginia. Another example is when Agent Ryan went to Brody Nelson's house at the beginning of the episode to get him to come into the office by hacking into his car alarm system and using an app on her phone to control said system when Nelson couldn't turn it off with the remote, and the gore porn forum that encourages their members to post anything that causes extreme carnage, which is sickening to say the very least. I now know why they call it the Dark Web.
There is no doubt that cyber crime is an interesting issue, but what the show is featuring seem to be half cyber crime and half traditional crime. It would be interesting to explore how actual cyber crimes, like hacking into a computer or database or using smart technology to control devices like smartphones, cars, etc., take place and the methods used to solve the cyber crimes and bring the perpetrator/perpetrators to justice. I mean, the show is called CSI: Cyber, so it should be focused on solving cyber crimes where they catch a hacker who has hacked into a stranger's computer to steal private information or what have you and use the same method to catch the one who committed the cyber crime.
The entire team was pretty much scrambling around like headless chickens over the course of the hour, as they worked tirelessly to track down Otto before he struck a second time (apparently hacking the roller coaster with a Bluetooth device and killing three innocent people was not enough for this guy). The cyber criminal had to do something bigger and cause more carnage in order to be let into the private forums of the gore porn website. It kind of makes you wonder what the other members had to do to get into the private forums and how many innocent people they harmed because of their sick and twisted need to be aroused by blood and gore. The human psyche is truly a very mysterious thing.
Agent Mundo stopped the device that was planted on the Boston subway train car by breaking it, which is exactly what most people would have done. Those of you who are more tech savvy than I am can correct me if I am wrong, but if the train's braking system was being hacked by a Bluetooth device, shouldn't it turn off immediately if the device was disconnected or broken as Agent Mundo had done? That would take away the need for Brody to walk him through deactivating the device right? On a side note, that particular scene reminded me of that scene in an episode of The Big Bang Theory, in which Sheldon was walking Penny through opening his Japanese puzzle box, but she just put it down on the floor and broke it with her foot.
I was unsure how Agent Ryan immediately jumped to the conclusion that the roller coaster killer was part of an online forum on the Deep Web. It was such a specific realization to come to when they didn't seem to know that much about the target yet. However, it did highlight the fact that the team is always going to be dealing with those who want to remain anonymous on the Internet, Deep Web or not, which is both a cool and scary idea at the same time, because, as I said in my first CSI: Cyber review, the Internet can be a very scary place. I was also a bit confused to see Agent Mundo going through a divorce since the pilot episode didn't mention him being married, but that's just me.
The scene where Ronny, the guy who made the Bluetooth board that caused the roller coaster crash for some cash, was interesting, and it seems like the kind of business that could facilitate a lot of cyber crimes. A hacker who builds products for other people, or other hackers, who want to hack or remain anonymous online seems legitimate, like its own black market in a sense, but instead of selling illegal products, everything is done by the book. More paranoia for me. Yay!
I still enjoyed watching the episode and seeing all the smart technology being put to work to solve cyber crimes. I also think that the cast has very good chemistry so far, especially Raven, Brody, and Daniel, who all seem to have been caught by Agent Ryan and are working off their debts (in a way) in the Cyber Crime Division at the FBI. Hopefully, the show will start to pick up the pace a little bit, because aside from the thrill of chasing and capturing the cyber criminal, the pace of the episode felt a little bit on the slow side.
[Photo via CBS]