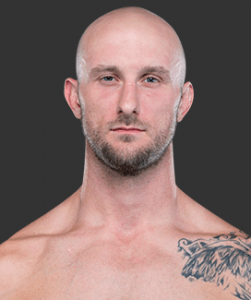 Poor Bubba. He really, really wanted this, but he's been in three fights (two preliminaries and the fight to get into the house) since starting The Ultimate Fighter. Bubba was in a lot of pain physically and mentally.
Bubba ended up going to get some blood work to see if he was having any issues with his kidneys. But before we go the results of Bubba's test, we had the third quarterfinal fight: Team Sonnen's Jimmy Quinlan vs. Team Jones' Josh Samman.
Josh came out punching, but Jimmy scooped him up, walked across the octagon and dumped in on the ground. However, Jimmy's grappling wasn't enough because Josh got on top and submitted Jimmy to a barrage of punches. Josh is the real deal and I wouldn't be surprised if he fight Kelvin Gastelum in his next fight or the live finale.
With Bubba getting good news for the doctor, he was good to fight. I've been a fan of Bubba this season, but may I direct you to exhibit A of why Uriah was the absolute favorite:
How do you fight someone, who knocked a dude back to the sixth grade? You don't.
Bubba became the latest victim of Uriah's knockout skills… WITHIN THE FIRST 15 SECONDS!!! He won his prelim fight the same way. Methinks he won knockout of the season twice! DAYUM! Bubba can't even open his left eye and has no recollection of the knockout in question.
Scratch that, I'm predicting Kelvin vs. Uriah in the live finale. Those two are the real deal!
Next week are the semifinal fights are Josh vs. Kelvin and Uriah vs. Dylan. I know what you're doing Dana. Trying to position a Josh vs. Uriah live finale, but don't count out Kelvin. He's been this season's Florida Gulf Coast University and there's still some magic in his Cinderella slipper. Dylan, however, you were handed a one-way ticket to the sixth grade courtesy of Dana.