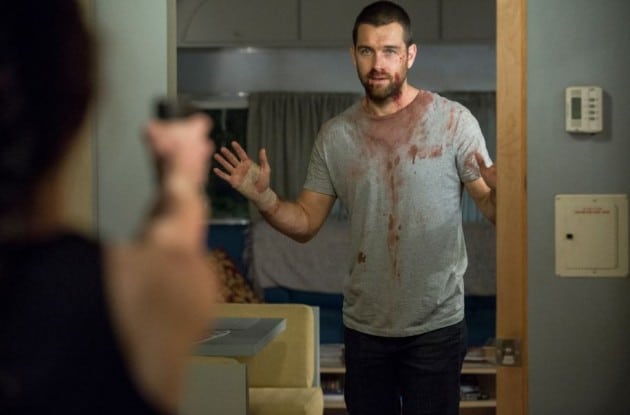 The beginning of "A Fixer of Sorts" is like a hyperactive wolf on a leash; the heat has barely left Leah Proctor's body before Nola's hatchet comes flying out of the woods, burying itself in Burton's shoulder and kicking off one of the most insanely relentless hours of television you'll ever watch. There isn't a show that turns the dial to 11 like Banshee does; and "A Fixer of Sorts" is wall-to-wall awesome, an episode that shows off the show's acting, direction, production, and writing, all in one, swift, blood-drenched package.
Perhaps the most impressive feature of "A Fixer of Sorts" is how it turns Banshee's always-brutal violence into works of art. Forget about the Mortal Kombat ending; Burton vs. Nola stands next to Olek vs. Ana as the greatest fight Banshee's ever staged, a fight that takes place around, inside, and on top of Kai's familiar Rolls-Royce. The only downside to the fight were the stakes established with Nola's blade buried in Burton's chest; one of these awesome secondary characters was going to die, which happens when Burton yanks Nola's throat from her neck (hands down the most gruesome image I've ever seen on television, followed closely by Burton getting a stitch later on).
Of the two, Nola's arguably the more complex character; Burton's in-the-moment flashbacks only give him a background vaguely similar to the weird self-flagellater from The Da Vinci Code, a particular bit of history I don't really need his character to have. It speaks to how well each character's been developed by Nola's final moments; the final image in her mind is Chayton saving her from whatever weird drugged-out life she was living, a powerful send off for a character who was just starting to get interesting (and considering her newfound friendship with Ana, intriguing outside her Native American-based conflicts).
"A Fixer of Sorts" isn't just settling for one instantly-iconic fight scene and character death, however; Hood's entire past comes back to haunt him throughout the hour in the form of a slimy FBI agent (hey, Dennis O'Hare!), and the show's most ludicrously awesome antagonist yet (taking the title from ol' Pasty back in season one), Raymond Walton Brantley. Brantley, so obsessed with the decimals of his business, kidnaps Hood and Agent Phillips (while Phillips was arresting him, curious about how he fooled all of Banshee into thinking he was Hood) in order to settle Jason Hood's debt from last season. That sentence alone conveys how full-circle everything comes for Hood in "A Fixer of Sorts", which intersperses brief flashbacks and bits of video from his (formerly) confidential interrogation video from fifteen years ago, and also brings back two of his major personal conflicts from season one with little Hood and Racine.
And of course, this all takes place on a Mack truck speeding down the highway, a fitting visual metaphor for Banshee's attitude towards normal storytelling rhythms. Why slow down and look at the scenery when you can slam on the gas and get high on the adrenaline rush? This is the question Banshee asks us in its best moments; which come in the latter half of the episode, with Hood's escape, Brock taking down Chayton's brother and a bunch of other 'soldiers' at Kai's strip club (bonus: Brock getting therapy from strippers), and the death of Tommy at the hands of Billy Raven.
Oh, and the best of all: a Banshee torture scene. No, I'm not crazy; but whenever Lucas Hood gets tied to a chair and tortured, he is at his most contemplative and reflective. It's one of many traits that make him TV's best anti-hero (see also: every line of dialogue he has in this episode, plus his escape in the third act). In "A Fixer of Sorts", electrified gauntlets bring out the somber, introspective side of Lucas, conveying to us the answers he refuses to give others. Why keep the money Jason stole? Why stay in Banshee? Why keep fighting? And as he gets shocked over and over, his consciousness floats to repetitive images of Siobhan, Deva, and Ana, the women in Hood's life that keep him from absolute despair. Those three are his identity, for better or worse; without them to anchor himself to, whoever Lucas Hood really is would be lost to the world (and more importantly, himself) forever.
It all leads to the devastating final image, a broken Siobhan flabbergasted at the file and video so graciously mailed by Phillips to the Banshee police department. As if having Tommy nearly gut her with a knife wasn't enough; she came home to find out her boyfriend is a former thief who moved to her town to kill somebody and find the woman he loved fifteen years ago. "Who are you?" she asks as the episode ends, forcing Lucas Hood to finally consider who he really is – and to tell the truth about it, right before the screen cuts to black, putting a poignant period on Banshee's most brutal hour of unadulterated awesome to date (and kicking off the season's big stories with a resounding sonic boom).
[Photo via Cinemax]