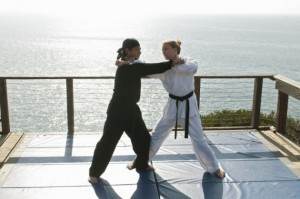 Emily got her focus back on this week's Revenge, but it looks like it came at the cost of her biggest ally.
Emily's mentor, Mr. Takeda, suggested that she refocus on her master plan and stop letting her emotions – particularly her feelings for Daniel – get in her way. She insisted she had no feelings for her boyfriend and wanted to continue with her plan, which now included ensuring that both Tyler and Amanda be reigned in. To control Amanda, Emily has decided to abide by the old adage 'keep your enemies closer'. She has befriended Emily and is encouraging her to keep up the Amanda Clarke charade. Even as Amanda grew closer to Jack (who has moved on to whining and dining her while reminiscing about their childhood), Emily quietly supported her in order to control her.
Next on the list was Tyler, so Emily took a trip to Nolan's to get some additional information about the interloper. While there, she found the tape Nolan had made of him having sex with Tyler. Realizing Nolan had been keeping a secret from her, she decided to use this unexpected information to her benefit. Emily told Daniel that Tyler had slept with and blackmailed Nolan into investing with Conrad. At first, Daniel didn't want to stoop to Tyler's level and resolved not to tell his father about this. But he eventually caved when Tyler became too insufferable and continued to live at the Grayson house.
Naturally, Conrad wanted to fire Tyler, but Tyler played his trump card: he threatened to reveal the information in Lydia's speech if Conrad got rid of him. Conrad was forced to cave and keep him on. Later, Tyler exploded at Nolan, accusing him of playing him from the beginning and of telling Conrad about the tape. But Nolan was as surprised about the tape as Tyler and soon realized Emily was responsible. Before storming out, Tyler grabbed Nolan's little camera/USB key, and he now has the video of Lydia threatening Conrad the night she fell from the balcony. In other words, Tyler has enough leverage to get whatever he wants from the Graysons.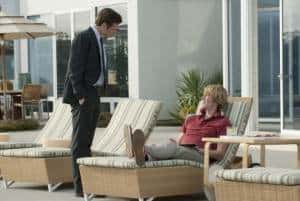 Speaking of the Graysons, this week's Revenge was not very kind to Victoria, although she seemed to come out ahead for a while. Conrad served her with divorce papers and she was later approached by a lawyer – Huntley – who wanted to represent her instead of her husband. She later told him she had no trouble doing whatever it takes to get what she can from Conrad. But later, Charlotte confronted her mother about paying off Declan and told her she was going to live with Conrad instead. Victoria lost her daughter, but she regained her son. Daniel went home, thinking Tyler would move out after Conrad fired him, so he was shocked when his father backtracked. Feeling betrayed, Daniel resolved to help Victoria in her fight against Conrad. But we learned something quite interesting about Victoria's new lawyer: he was the same lawyer who refused to handle David Clarke's appeal. When Amanda learned of that when she was still a teenager, she confronted him. It looks like Mr. Huntley could be her mole inside the Grayson's divorce. Or is he her next target? I'm thinking her mole is more likely.
At the end of Revenge, Nolan confronted Emily about the Tyler situation. She told him he got was he deserved for keeping secrets from her and he wrote her off, not willing to play her games anymore if she's decided to turn on the only allies she has. Now Emily is alone in her quest.
I think Emily made a huge mistake in turning against Nolan in this episode. Yes, it was probably necessary to get Tyler back under control, but she lost the only real ally she has. Amanda is too much of a wild card to be considered an asset and now Emily is on her own. Big mistake. First of all, how will she accomplish all of her electronic spying/hacking without Nolan's skills? But more than that, I think this plan is far too complex for her to see it through by herself. What's even more worrisome is that Mr. Takeda may have been right and Emily is letting her feelings get in the way. If she's falling for Daniel as he suspects, then that could be very dangerous to her plan. Could she let Daniel get hurt by the whole situation when push comes to shove?
The whole 'let's reminisce about our childhood'scenario with Jack and Amanda was basically filler in this week's episode. Amanda needs to step up her game and become interesting once again, otherwise she's merely a distraction. After blowing into town as a loose cannon – and then dropping the bombshell that she was Amanda Clarke – I had high hopes for her, but she needs to make a move. I think she could get interesting now that Victoria knows David's 'daughter'is back in town. How will she react to coming across Amanda Clarke once again?
It looks like Revenge is on its midseason hiatus, as there are no airdates for the next episode right now. But the trailer for the next new episode (view it here), airing on January 4, shows that Tyler has clearly gone off the deep end. Will someone die in the next Revenge?