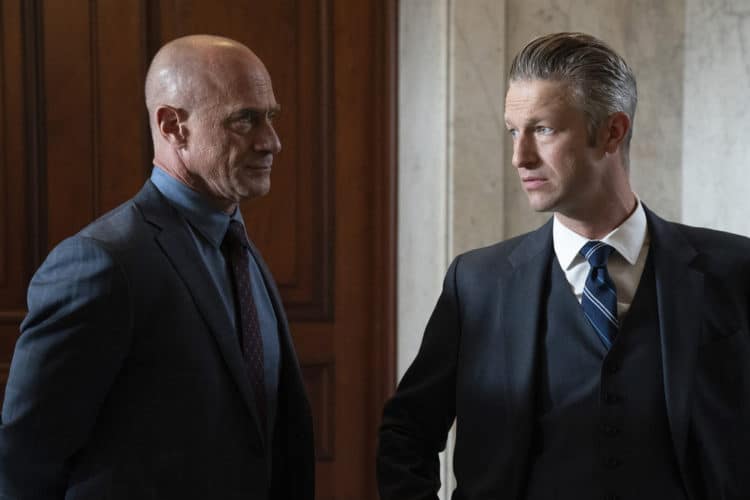 After a two-week hiatus, Law & Order SVU is back with a bang. Season 23, Episode 9 covers Kathleen Stabler's murder trial. Although we knew that it wouldn't be easy taking down Wheatley, who comes from a long line of career criminals, most of us were a bit surprised when the trial ended with a hung jury. Pretty convenient, huh? This episode has some decent twists and turns but more importantly our favorite SVU detective, Olivia Benson learned a very important lesson on taking on other people's problems. In case you missed it, here is a breakdown of what happened on what happened.
Rest In Peace
In the first scene, Olivia joins Stabler and his kids at Kathy's gravesite for her birthday. They place flowers on her grave and exchange a few kind words. They have plans to have lunch at a restaurant but Eli, Stabler's son decided to go study with his friend instead. After the pill incident in Law & Order Organized Crime, Elliot is watching him with a hawk's eye. He's installed security cameras in their apartment and has a tracking device installed in Eli's cellphone.
Welcome Back
Richard Wheatley switches his lawyer for the fourth time in court, stating to his counsel that she's only good for motions. The new lawyer he ends up hiring is a bulldog and ally to SVU, the first former assistant district attorney Barba. Olivia pleads with Barba not to take the case and although Benson is Barba's weak spot he's also adamant about pursuing justice and feels that if SVU set Richard Wheatley up in order to make their case. Barba also reminds Benson that if another attorney takes the case they'll come at SVU hard and she could cost Benson her career, especially since she has a personal relationship with Stabler and his family.
Trial
Carisi and Baptiste are handling the prosecution in this case when the trial starts and Benson is the first person on the stand. After Baptiste finishes his line of question, Barba goes next and puts Olivia in the hot seat regarding Stabler's treatment of the innocent suspect they had arrested the night the car bombing incident took place. As we expected Detective Stabler's behavioral record comes up. We already knew that this would come up during trial because every fan of Law & Order SVU knows of Stabler's anger issues that have gotten him in trouble me time after time. Barba arranges a meeting after the first day of court with Benson and Richard Wheatley. Benson coyly asks Wheatley if he wants to confess. Instead, Wheatley warns Olivia about Angela's upcoming testimony. He lets her know that she's not going to like what she hears and neither will his kids. This prompts Olivia to go straight to Elliot. She meets up with him outside the courtroom and asks him if there is anything she should know about. Elliot avoids the question and even has the nerve to tell Olivia that it's not her business. This is a huge slap in the face! After all, Olivia has put her career on the line and dedicated so much time and effort to help Elliot solve his wife's murder. Olivia also brings up the letter. She wants to know why Elliot gave her a letter that he didn't write. Elliot tells her that he didn't know where to start. Benson and Stabler's relationship is beyond complicated.
Taking The Stand
Angela finally takes the stand and admits that her Elliot kissed. She also admits to currently still being in love with Elliot. Barba uses that information to cast doubt on her reasons for testifying. Richard Wheatley's son also takes the stand virtually from behind bars. Initially, Wheatley's son was eager to testify for the prosecution against his dad, but someone off-camera signals to him and he changes his story testimony at the last minute. When the camera pans to Wheatley he looks very pleased. Obviously, he had his son's life threatened. Elliot takes the stand next. After a brief pep talk with Carisi and Benson, he realizes that it's important to keep his composure. We were really rooting for Stabler but of course, he failed. Stabler had an outburst on the stand when Barba cross-examined him and even accuses the judge of being paid off by Wheatley. Needless to say, Elliot is held in contempt of court until he calms down. When Wheatley gets on the stand vehemently denies having anything to do with Kathy's murder. He attempts to gain sympathy by crying and claiming that he has experienced some losses just like Stabler. His mask falls off when Carisi cross-examines him and he threatens to have him murdered in front of the courtroom.
Deadlocked
Barba meets Benson for lunch, but it's clear that the last thing Olivia wants to do is share a meal with him. Olivia tells Barba that she's feels betrayed by him and doesn't know if she can ever get over it. Unfortunately, she can't see that he was just doing his job. Barba subtlety reminds Olivia that she's too entrenched into Elliot's world. The jury spends a day deliberating before they report that they are deadlocked and Barba files for a mistrial. Stabler is disappointed, but he realizes something is going on with his son when he finds out that Eli looped the security cameras.
Tell us what's wrong with this post? How could we improve it? :)
Let us improve this post!