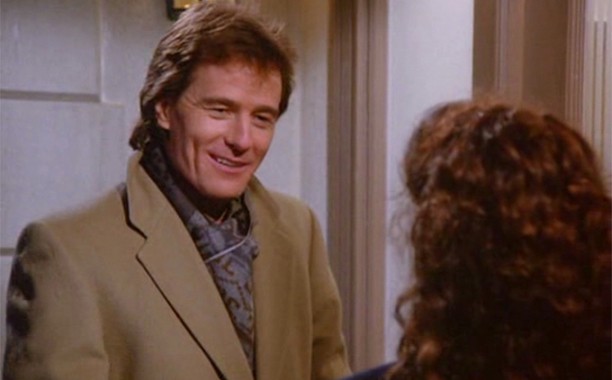 Bryan Cranston played the recurring character of Tim Whatley on the classic 1990's sitcom about nothing "Seinfeld". The actor has worked in television and film since 1980 but is best known for his role as Hal on Fox's "Malcolm In the Middle" and Walter White in AMC's "Breaking Bad". Cranston has worked as an actor, screen writer and director and has proven himself in comedic and dramatic roles. As the recurring character on "Seinfeld", Bryan Cranston played Jerry and the gang's friend Dr. Tim Whatley. Whatley added humor to every scene on Seinfeld.
Here are the top five Tim Whatley scenes on "Seinfeld".
The pre-Thanksgiving Day Party
Jerry Seinfeld's friend Tim Whatley lived in an upper west side apartment in New York City, the perfect spot to watch the Macy's Thanksgiving floats be blown up the night before the iconic parade down Broadway. Tim hosted an annual pre-Thanksgiving Day party every year, but on one particular party night, Jerry wasn't sure whether he was invited or not. He might not of cared but had a terrible toothache and hoped that Tim, a dentist, or one of his dentist friends could take a look at the tooth. Jerry's appearance at the party is funny, mostly because of Tim Whatley's reaction. During the same episode, Tim asks Elaine out for a date, but she couldn't hear him because she'd been at a Dixieland band celebration for work so she, inadvertently, turns Tim down. The same scene has George trying to find out if Jon Voigt had previously owned his car based on a pencil left in the glove box compared to teeth marks left by the actor Jon Voigt when he bit Kramer's arm. It turns out Tim knew the owner of the car, John Voigt the Periodontist.
Penthouse Dentist
One of Bryan Cranston's funniest scenes as Dr. Tim Whatley on "Seinfeld" was when Jerry visited the dentist and began to worry that Dr. Whatley was running a version of the Playboy Mansion in his office. Whatley has Penthouse magazines in his waiting room and things that Dr. Whatley says to him lead Jerry to think his dentist is running a shady practice. When Jerry awakens from the nitrous oxide which Tim takes a hit of before putting the mask on Jerry, Jerry sees things which scare him and can't remember if his shirt had been tucked in or out during his dental procedure leading him to think he could have been violated.
Penthouse Dentist II
https://www.youtube.com/watch?v=ZP-Z_DLo_IA
Prior to Jerry's dental appointment, Kramer had gone to see Dr. Whatley for an appointment. That's when he discovered the Penthouse Magazines in Dr. Whatley's waiting room. Bryan Cranston's exchange with Kramer is humorous as he prepares Kramer for the dental work. Of course after the appointment, Kramer runs into the man putting on a benefit for those with mental development disorders with special guest Mel Torme. Kramer, having just come from the dentist with a numb mouth is mistaken for having a mental development disorder and invited to come to the event.
Tim Whatley Converts to Judaism
When Dr. Whatley converts to Judaism, Jerry becomes offended. He's not offended that his friend converted to Jerry's own religion. Instead, Jerry is offended because he feels Tim converted to be able to tell jokes that only Jewish people can tell. Not only is the now Jewish Tim Whatley telling Jewish jokes but when he asks his assistant for a "shtickle of fluoride", Bryan Cranston proved his comic ability.
Tim Whatley kisses Elaine
Elaine was always interested in Dr. Tim Whatley, but when he asked her to the Super Bowl, she was concerned about how far he wanted to go. In the same episode, Elaine was also concerned that Tim Whatley was a re-gifter of a label maker. However, she succumbed to her attraction to Tim and kissed him. The two actors re-enacted the scene at the Emmy Awards. Bryan Cranston nails his comedic timing when he kisses Elaine when she wins the Emmy for her role in "Veep".