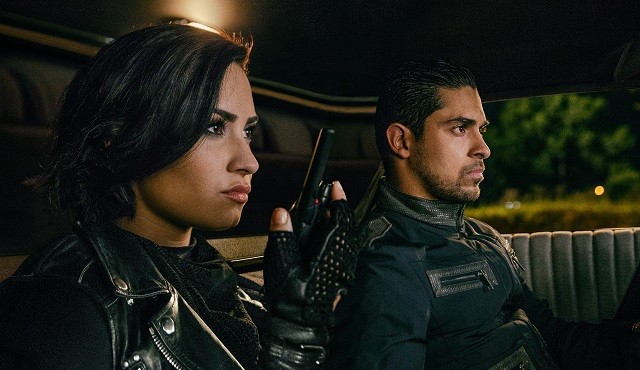 While this week's episode of From Dusk Till Dawn: The Series could have had an ambiguous sense of finite-ness, we got the news Monday that El Rey Network has picked up the series for a third season. With that in mind, let's take a look at what happened in the Season 2 finale, "Santa Sangre."
The episode opens with Freddie being rescued from being buried alive by underlings of one of the other Nine Lords. This lord (the first female that we've heard of) wants Richard Gecko to be put on the throne in order to fulfill a prophecy. Freddie, it turns out, is destined to be a peacekeeper. Freddie has had a very fun role this season, but this revelation of his destiny gives proper weight and clarity to the reason that he's been on the show since the beginning. It's a good move for the series, and opens up a lot of exploration for the next season to explore.
At the well, Kate is dying after the gunshot she received at the end of last week's episode. Richie and Scott both want to turn her into a Culebra to save her, but it's clear that this isn't what she wants to happen. After a short action scene, Richie heads back to his "office" to go over the plan with his brother and Santanico. I've been extremely complimentary of Madison Davenport's performances as Kate this season, and it really does feel like this is where the story has been heading for the past ten weeks. She's been involved with everyone else on the show all year, and this finale has put the character in the perfect place.
Speaking of Santanico and the Gecko Brothers, they join forces with Freddie in order to stop Carlos (and, by extension, Scott and Sex Machine) from succeeding in their plan. The four decide on a course of action to take, and they set things in motion as Carlos arrives at the bar. One great thing about From Dusk Till Dawn since the very beginning is the way that it so frequently joins groups of characters together for a time in unexpected ways, and that's what we get here with Freddie, Santanico, and the Geckos. Freddie just plays so well off of whoever he shares scenes with, and I think the whole audience can agree that the Gecko Brothers are just a ton of fun when they're together (though it was good getting to see them apart for so long).
Just like the show has done all season, "Santa Sangre" makes great use of a guest cast. After a brief tease last week, Demi Lovato makes a full appearance in the finale as Maia, an associate of Carlos. I don't think that I've ever seen Lovato in such a dark role, and it was a blast watching her completely give herself to this world. She also holds her own remarkably well in scenes with Eiza Gonzáles (Santanico), and I hope we get to see much more of her next season.
Lest we think we'll go a full season without a great bar brawl, "Santa Sangre" features an awesome Culebra battle at Jacknife Jed's that rivals the Culebra debut at the Titty Twister last year. It makes perfect use of the music being played by the bar's band (just like last year did), and its conclusion is more satisfying than I could have expected.
"Santa Sangre" was a fantastic finale that capped a really solid season of From Dusk Till Dawn: The Series. The final ten minutes of the episode wrapped up a lot of lingering threads while opening up quite a bit more that can be explored next season. All of our characters are in much different places than they were in the beginning of the season, and I have a feeling that it's going to be very exciting to see where the story goes from here. There's a world of possibilities at the writers' disposal, and I'll follow them wherever they lead.
What did you think of the Season 2 finale of From Dusk Till Dawn? Are you excited to see threads picked up next season? Let us know your thoughts in the comments down below!
[Photo via El Rey Network]