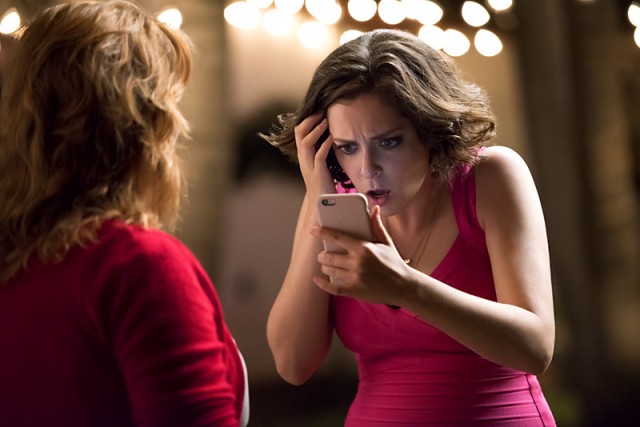 Crazy Ex-Girlfriend is probably the worst-named new show of the fall, and at the same time, it's one of the most intriguing new series of the year, a mashup of genres and ideas that on the surface appear drastically incongruent. A rom-com musical about a woman who chases a teenage crush across the country to stalk him until they fall in love? On the surface, Crazy Ex-Girlfriend is just that, but dig a little deeper, and "Josh Just Happens to Live Here!" reveals itself to be a very creative story about the most important part of human existence: the pursuit of happiness.
It's worth noting this show probably wouldn't work without its star, Rachel Bloom – not because she's a co-creator of the series, but because she's absolutely dynamite in the lead role. Bloom plays Rebecca Brunch, a trial lawyer at the end of her wits; after an adult life full of matriarchal pressure, sleep deprivation, and lots of medication, Brunch finds herself constantly presented with a single question (via a butter ad): "When was the last time you were truly happy?"
To truly ask oneself that question is a frightening thing. When it drives Rebecca straight into the arms of her high school crush (on the same day she's about to be promoted to partner, no less), she finds herself at a crossroads in her life: continue on the path her mother designed for her, or break away from a life that's driven her to the edge, to try and fill the hole in her heart she's felt since those days in summer camp over a decade ago. To her, chasing down Josh and falling in love would finally make her feel alive again, and it's there where Crazy Ex-Girlfriend begins to distinguish itself from its title, and unearth much darker, hilarious ideas about defining one's purpose in life, and how that often comes with monumentally awful decisions After all, who hasn't done something incredibly stupid when the possibility of love was on the table?
If there's anything in life that makes us do truly crazy things – like Rebecca who sings to the heavens and waxes herself before going on a date – it's love, the often fantastical pursuit of perfect bliss we so often define ourselves by. And "Josh Just Happens to Live Here!" captures that in such a hilariously dark and poignant way, it immediately demands attention, even if its premise still seems a little off-putting and confusing. Thanks to the conviction of Bloom's performance, and the script's confidence in portraying her journey as one of self-definition misdiagnosed as love, the pilot takes off once she arrives in California ("West Cooooov-innaaa!" I'll be singing all week) and never quits.
There's a lot of other things working in Crazy Ex-Girlfriend's favor, led by the fantastic performance by Santino Fontana as Greg, Josh's friend and Rebecca's 'date' to the party. Their bedroom scene is one of the funniest, most awkward and unsettling things I've watched all year, as Rebecca's sexual facade breaks down, and she realizes what a low point she's hit in her life. Her desperation and how uncomfortable Greg is through the whole situation reveals some great chemistry between the two characters. While the "will they, won't they" undertones are extremely obvious, the personality the two performers bring to those scenes adds texture in ways the musical scenes and shots of blood can't.
Crazy Ex-Girlfriend has an uphill battle trying to present itself as must-watch TV. It's a weird mix of genres, and the promotional materials don't capture the elements of the pilot that make it such an entertaining new show. Regardless of the show's inability to build hype, Crazy Ex-Girlfriend is the antithesis of the fall's pilots to this point: it effortlessly integrates a high-concept premise with realized characters, a sharp sense of its identity, and, most importantly, a wildly acerbic sense of humor, something I'm looking forward to seeing develop over the first season. And hey, the music isn't half bad either. From start to finish, Crazy Ex-Girlfriend's pilot is one of the most curious, engaging debuts of 2015.
Other thoughts/observations:
Welcome to Crazy Ex-Girlfriend reviews! I'll be covering The CW's newest surprise throughout the fall.
That Nippsey Hussle cameo was both unexpected, and fantastic. "I have a lot of b**ches I need to go apologize to."
Rebecca's new boss, Darryl Whitefeather, is going through a tough divorce and is also 1/8 Chippewah ("They're my people," he tells Rebecca).
"Like a bag of nails to the balls" is one of the more effective turns of phrase I've heard recently.
Rebecca going under Greg's shirt to then rub his face had me cackling – what a great touch.
[Photo via The CW]