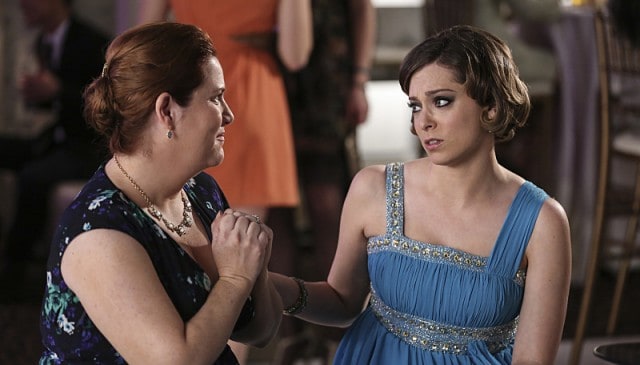 Oh, what a finale. We finally saw the culmination of Rebecca chasing Josh for eighteen episodes: a happily-ever-after. (Or was it, really?).
Let's start with Josh. Vincent Rodriguez III hits it out of the park with his pained facial expressions — especially during the jewelry store scene. We also saw more dimensions of Josh's character, as he waffled on buying a ring and considered his true feelings. In general, the show has done a fantastic job of turning a two-dimensional love interest into a great character. When he tells Rebecca that she looks amazing, and warns her against Greg, I felt like I finally shipped them as a couple. The ending, though, was shocking — I couldn't believe Rebecca told him the true reason she moved to West Covena, and his face-drop in response! Will she end up with Josh, or will he be too weirded out? I'm not sure I can wait until season 2 airs!
Greg and Rebecca were a disaster. Greg's insecurities bit him in the foot, again, as he pushes Rebecca away when she yearns for romance. Up until this point, I've liked Greg (and even shipped the couple), but it was difficult to like him tonight even though his motives were understood. Even the glimpses of his true feelings we see — saying "I love you" at the end, telling off Josh, asking Rebecca whether she likes the balloon or flowers more — couldn't redeem him. Who says "you're cool" to a girl, after she's poured out her feelings to you?! (Although, to be fair to Greg, this is now the second time a date between them has ended with Rebecca sleeping with someone else.)
Woah! Stalker alert! We knew Paula was creepy — she did hack Valencia's phone and mess up Rebecca's bridesmaid status — but she just got much creepier. She put a tracking device under Mrs. Chan's car and controls Valencia's yoga schedule?! I'm glad some of these shenanigans helped repair her marriage, at least, but I'm terrified. Besides those things, though, Paula and Rebecca's friendship was touching. The mother-daughter analogy between them has always been implied, but it was nice to see it actually spoken, as Paula sings: "you lived in my womb — I mean, figuratively". And they were adorable at the wedding, running up to each other and half-crying. Their friendship was the best part of this episode.
I thought the wedding itself would just be there for plot convenience, but it was well-crafted, witty, and added to the episode. The magic carpet hoverboards, the narcisstic aunt, and the theme mash-up ("what was this Pinterest board called?!") were all interesting additions. Crazy Ex-Girlfriend put in extra effort, and it really paid off. (Also, Mrs. Chan continues to be the best with her no-nonsense talk. She doesn't want singing from the aunt; "she needs dish towels!".)
Where was the humor this episode, though? While the finale was filled to the brim with all these great character and relationship developments, I was seriously disappointed at the lack of laughs. No crazy songs with vulgar lyrics? No hilarious mishaps? That's not the Crazy Ex-Girlfriend I know!
The Verdict
Although it missed its humor this week, Crazy Ex-Girlfriend had a solid finale that was packed with character development.