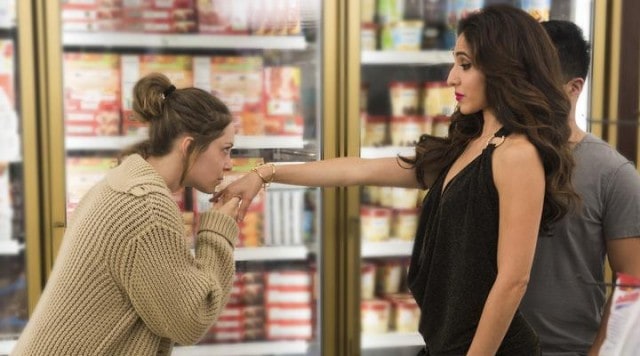 "Josh's Girlfriend Is Really Cool!" isn't as consistently sharp as Crazy Ex-Girlfriend's fantastic pilot, but even in the moments where the show falters with cliche humor or slightly tone deaf storytelling, the immense charm of Rachel Bloom carries the show through an entertaining second episode. Energetic and uncompromising, "Josh's Girlfriend Is Really Cool!" is the kind of second episode that may not necessarily click in the short term, but presents a promising blueprint for a series to follow.
What impresses about the show's second episode is how versatile it tries to be. It swings wildly from post-modern feminist criticism (even the opening theme points out how ridiculous the show's title is) to romantic comedy satire, to bombastic musical production, all in a single breath. Throw on top the examination of a group of deeply flawed characters, and it's no surprise there's a lot of pieces in "Josh's Girlfriend" that work, and an equal number of moments that don't.
What does work is pretty obvious. Rachel Bloom's performance as Rebecca Bunch conjures up memories of Laura Dern on Enlightened. Bloom's ability to project the best and worst of Rachel's intense, delusional personality is amazing to watch, a performance as brave emotionally as it is physically. There's nothing on this show that compromises, led by Bloom's performance; Crazy Ex-Girlfriend places the good qualities and flaws of its characters on equal footing, asking only for empathy, not acceptance or denial. It seems like an insignificant, pretentious thing to say (admittedly), but it's an important distinction that allows Crazy Ex-Girlfriend to operate in so many different realms, both observational and self-critical. The series doesn't hide from the ugliness in people, or the beauty that sometimes stems from our worst qualities.
However, it certainly isn't forgiving Rachel for her behavior. Her new friend Paula calls her out for her self-delusions about why she came to West Covina in the first place, a moment that stems from Paula's frustration about how Rachel prioritizes her life around pursuing Josh – which in itself, is a commentary on the hypocritical nature of human beings, since Paula is blowing off her own family, to act sad and pathetic when she doesn't get to live vicariously through Rachel. Throw on top this episode's exploration of the dynamics in a female relationship (and as a byproduct, how the media often puts women at odds with each other), and it's no wonder there are moments in "Josh's Girlfriend" where Crazy Ex-Girlfriend is struggling with its own density.
Yet that ambition is charming, and it pays off in interesting ways throughout the episode. Rachel's pursuit of Josh's girlfriend comes off as creepy and complex as it possibly could ("Feelin' Kinda Naughty" is a brilliant piece of work), just as Josh is held to task for trying to get Rachel to lie to his girlfriend about their time at summer camp, and Rachel and Paula have a touching little reunion when she apologizes. These moments not only display the wide emotional palette Crazy Ex-Girlfriend has established in two hours, but the dedication of the writers to keep this show moving. There's no delayed gratification with any of the conflicts introduced in the pilot, or even this hour, giving the episode a certain tightness most young shows don't have.
It all combines to make Crazy Ex-Girlfriend feel distinct and confident in its first two episodes, and that's more than enough to separate it from the crop of mediocre, thoroughly forgettable pilots gracing most of the networks this fall (or in FX's case, the 90-minute-a-week monstrosity The Bastard Executioner immediately became). There's plenty to like about "Josh's Girlfriend Is Really Cool!" (even the inconsistent "I'm Good At Yoga!") – and at the very least, we have Rebecca's delusional, accomplished, thoroughly optimistic smile to keep us moving forward is Crazy Ex-Girlfriend figures itself out.
[Photo via The CW]