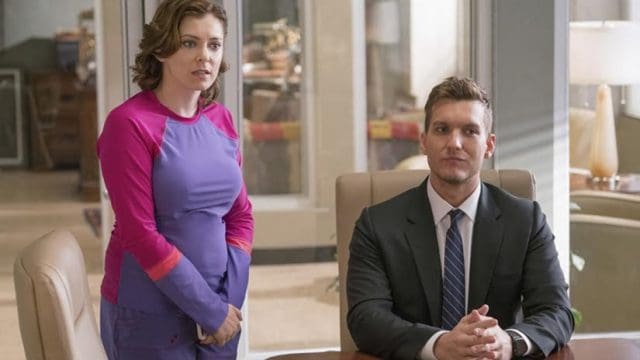 As the title implies the latest episode of Crazy Ex-Girlfriend, "When Will I Get to Spend Time with Josh?," centers around their new relationship and some fun new obstacles.
Rebecca and Paula are a great wife and wife team but Paula admits she needs to get used to doing things on her own. She also wonders why Rebecca hasn't responded to Josh's calls or outpouring of Hallmark-esque gifts. Rebecca admits she still loves him but she's scared he'll hurt her again. Paula encourages her to give Josh a chance…immediately because he's been basically living outside Paula's house. Josh says it will be different this time and they embrace.
After a little musical interlude throwback to the pilot, we see that after 4 days they're still in the "love bubble." Josh wasn't kidding. It really seems different this time. He actually says he loves Rebecca, not just something about her. It's pretty much exactly what Rebecca pictured when she moved to West Covina. Josh calls in sick so they can go to a water park, but Heather (oh yeah, Rebecca doesn't live alone anymore) informs her Darryl has been frantically looking for Rebecca. Rebecca says they just need to stop by the office for a sec to see check on Darryl.
They show up at the office in their water park gear (hers seems to be a sort of swimsuit/wetsuit hybrid) to find out Darryl has sold half of Whitefeather and Associates to a big law firm from LA. The new owner, Nathanial Plimpton (aka Cappie from Greek), sits at the head of the table. God I've missed Scott Michael Foster. He's even better looking now. Not impressed by by Rebecca's tardiness or attitude, he takes her to his office to speak in private. It turns out Darryl's old office is his office now, which means Rebecca's pushed to a cubicle.
He says that she seems to be the only competent one, if a little strange, at the firm. He asserts that everyone is going to need to buckle down and forget his or her personal lives. This reminds Rebecca her of her past life in New York, so she promptly quits. The problem, of course, is that he's planning to fire people to cut costs. Rebecca decides to stay and get the money by finding new clients.
Paula, weird Karen, Mia, Steve Newlin (not the character's actual name FYI) and George (the one whose name nobody can remember) discuss what Nathaniel intends to change. They discuss this via song, an ensemble number called "Who's the New Guy?"
Rebecca apologizes to Josh for having to cancel their water park date, but insists he shouldn't cancel their dinner for the following night with his parents. Meanwhile, Darryl and Nathanial have lunch at Homebase. Well Darryl has fries and Nathaniel just smells them because he's essentially a robot. Nathaniel matter-of-factly tells Darryl that he found Darryl's ex-wife and bought her equity in the firm, so now he's the majority owner.
Rebecca works late making calls to potential new and definitely gross clients. She sees Nathaniel throwing a water polo ball (what?) at the wall and marches into his office. She cockily informs him she scored a meeting with a potential new major client.
Rebecca and Josh sit on the bed in their pajamas. Josh tries to get down to business but Rebecca's too hung up on Nathanial, so he goes to watch TV instead. I smell an opposites attract love interest coming on.
In his new office (aka Rebecca's old office), Darryl laments to WJ that a ton of his native American décor won't fit in his new office, so he gives a reluctant WJ a giant bronze bird. He wonders if he made a bad impulse decision selling the firm. When Rebecca comes to get Darryl for the meeting, WJ astutely guesses that a lot of people's jobs are on the line.
In the meeting Rebecca impresses the clients, and Nathaniel, but when they promise an answer after Nathaniel's deadline with his father, he says people are going to have to be let go. Darryl's upset, but when Rebecca makes a Freud joke about how obsessed Nathanial is with his father, he gets a kick out of it. Clearly this hits a nerve with Nathaniel, so he promptly fires George and reasserts his authority. George sings about not being ignored or interrupted, but then he's cut off. Excellent use of commercial breaks CXGF!
Rebecca makes it to dinner with Josh's parents, but looks distressed. She's able to momentarily focus on the conversation, but then Nathaniel shows up to eat a steak not filled with cheese. For such a health-conscious guy I find steak a surprising choice. Rebecca confronts him, but he just insults Josh. When she returns to the table, Nathaniel actually turns his chair around to stare from across the room. Does no one else in the restaurant find it odd that this guy turned away from his table to stare at people? This gets to Rebecca and she can no longer ignore Josh's lack of intelligence. So, after snapping at him about the pronunciation of amuse bouche, she runs out of the restaurant.
Next thing you know, she's grave-digging with Paula. It's complicated for me to explain the details and unnecessary for the recap, but basically they're looking for evidence of multiple burials in order to get the new clients. They get the proof, but the police show up and Rebecca runs. Turns out it was actually a security guard. Paula convinced him to let her go in exchange for a date with him to an aquarium touch tank. They've apparently spent all night at the graveyard because it's light out and there's only 15 minutes before Nathaniel starts firing people.
Rebecca and Paula arrive at the office as he doing just that. He appears to be firing them in a very inappropriate firing squad-like manner, in front of the entire office. Rebecca takes him aside and begs him not to go through with it. She also somehow manages to mention the pooping 911 call on YouTube. He's unmoved and just calls her weak. When starts to leave, she holds up her pen like a knife and starts to chase him around the conference room.
She eventually tackles him and tries to stab him with the pen as the office watches on the other side of the glass. Naturally, that's when the potential clients walk in. Paula convinces them Rebecca was giving Nathaniel an Epipen. It turns out their stunt at the graveyard worked and they win the client. Nathaniel says everyone's jobs are safe for now, but not before emotional Darryl offers himself up to be fired because he got them into the situation.
Rebecca and Paula regroup in the kitchen. Like me, Paula finds Nathaniel to be a dreamboat, albeit an evil one, but she notices Rebecca's still unhappy. Rebecca says she regrets letting Nathaniel get under her skin because Josh is amazing, and worries that he won't forgive her.
He looks angry and Rebecca cops to being a bitch the past few days. He admits since it was all save her friends' jobs he can forgive her this time and they make up. Rebecca suggests some role-play that sounds oddly familiar. It's basically a reenactment of what happened with Nathaniel in the conference room. Aha! So Rebecca does see the dreamboat in Nathaniel as well.
The episode ends with Paula's extortion date. The security guard is just as creepy as she feared with a delightful Patton Oswalt playing the previously unseen man-child.
Side notes:
I really wish weird Karen had gotten fired with George. Like Beverly on The Mindy Project, she has some funny one-liners, but most of the time she's just painfully weird.
Will Patton Oswalt be a recurring character? The guy was weird and creepy but I'd definitely be up for more Patton Oswalt.
I hope Scott Michael Foster becomes a series regular because a) he's great to look at and b) he fills that grouchy angry hole left by Greg in Rebecca's heart (and ours).