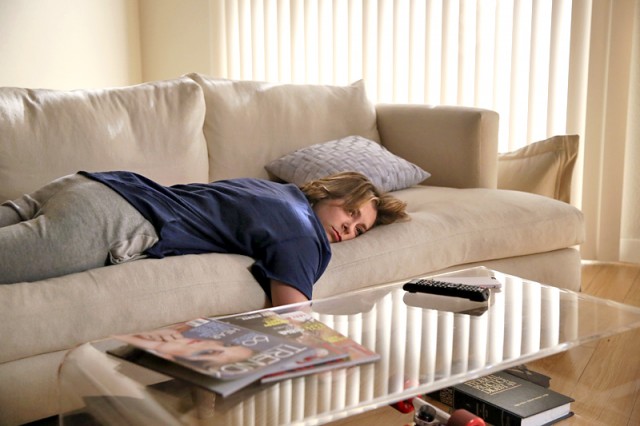 It takes 40 minutes, and the presence of Dr. Phil to get there, but "I'm So Happy that Josh Is So Happy!" digs at the conflicts lying at the center of Crazy Ex-Girlfriend for its main characters: their lives are broken, and they need to accept it. Throughout the course of the episode, this comes in many different forms for Rebecca, Josh, and Paula, but the lesson is universal: band-aids are great for healing injuries, but there's no such thing as band-aids for emotions, which each character learns in wildly satisfying and entertaining ways.
Despite the darkness lying at the center of each character's existential dread, "I'm So Happy!" takes a surprisingly light approach to Rebecca's mental breakdown, which coincides with Josh's girlfriend moving in and Paula's husband taking off for work, providing all three with opportunities to look within and explore. Of course, this leads to them ignoring said issues with various forms of unhealthy self-medication: Rebecca literally breaks into her therapist's house to steal their prescription pad, a journey that sees her hallucinate Dr. Phil and scour bathroom floors for medication in her attempts to lose herself in the middle, the emotional wasteland of nothingness Paula herself is trying to dig out of, considering an affair with Calvin, a potential Whitefeather client.
Even Calvin's trying to find a band-aid for his life, pursuing a married woman to atone for the loss he feels without his wife, who passed away a year ago. All around "I'm So Happy!" characters are trying to reach into their past for the answers in their current lives, and coming up wanting. This takes form most explicitly with Paula's arc in the episode, but Rebecca chasing her old prescriptions, and Josh trying to make his girlfriend happy by building her a table (one she didn't pick out, of course) also have hints of this pathos to them, people trying to recreate the emotional situations in life they're most comfortable in.
This, of course, is against the show's core philosophy of evolution, that nothing or nobody is too broken to grow into someone better. We had hints of this with Greg last week (who is relegated to buddy status in this episode, leaving the emotional implications of his little Thanksgiving evening with Rebecca hanging like a loose thread), but it really comes into focus with Rebecca in this hour. Breaking old habits is the only way to move forward, and Rebecca's spent too much time indulging herself in the sadness of her past (which Paula herself continues to do, existing in a broken marriage she's not attempting to fix, or abandon) to grow as a person, which she desperately wants to do. Parallel that with Josh's attempts to keep his relationship with Valencia intact despite how awful she treats him, and the thematic structure of what initially feels quite erratic slips neatly into place.
Crazy Ex-Girlfriend is not the most graceful show on television, paralleling its star in that way. "I'm So Happy!" is a textbook example of this, jumping around its three isolated stars (until Josh and Rebecca share boba at the end, of course) and mashing their stories together in what initially feel like awkward ways. Once Rebecca comes down from her high and focuses on moving forward, however, the many ideas and plots of "I'm So Happy!" merge in an interconnected web of hilarious individual character stories, all linked to each other by one very sad, sensual jazz fan and businessman, an unlikely – and thoroughly pleasant – place for Crazy Ex-Girlfriend to come together.
[Photo via The CW]