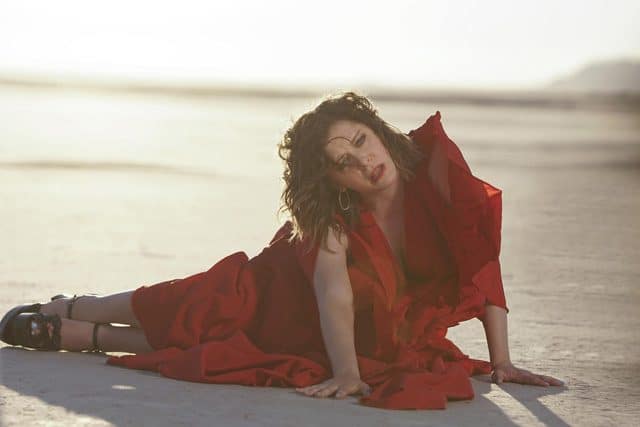 It's been awhile since we've seen the Crazy Ex-Girlfriend gang (the season finale aired in April and it's one of the last fall premieres). Lucky for us we pick up almost exactly where we left off. Fifteen minutes later to be exact. After finally hooking up in a convertible, Rebecca confessed she moved to West Covina for Josh. Now, they're back in the car looking extremely uncomfortable. I won't recap the conversation verbatim but it boils down to Josh questioning Rebecca about her confession only to have her confuse him into thinking he's the one acting crazy. The wordsmithing is actually pretty impressive but a little wasted since it doesn't take much to confuse Josh.
Now it's time for the new theme song: "I'm Just a Girl in Love." On the one hand I was sad when I heard there was going to be a new theme song. The original was nominated for an Emmy after all. The new version though. I don't know if I'd say it's superior but it's definitely solid.
Cut to 3 weeks later, and as Paula so accurately says, Josh is using Rebecca as an "AirBnb with benefits." Here's their apparent routine: they hook up, he avoids relationship talk and then goes to sleep on the couch. In classic Rebecca Bunch fashion, she tries to prove to Paula that Josh does in fact share her feelings by recalling how he's keeping his karate stuff in one of her dresser drawers now. When looking through the drawer they found a sweatshirt of Greg's revealing Greg's been MIA since the wedding. Rebecca got one text explaining that he's taking care of his half-siblings after his mom recovers from botched plastic surgery. After Rebecca rereads the text to Paula for apparently the umpteenth time, it's clear Rebecca, while fully focused on Josh now, still has lingering feelings for Greg.
Paula admits that she doesn't believe in Rebecca and Josh's love story anymore because Josh doesn't seem to care as much. This leads us to the first song of the season "Love Kernals"! This is when we find out why Rebecca was in a cactus costume in the promos. She's storing all of his loving comments like cacti store water since both are so rare. There's a fun meta moment when she sings about having spent their full production budget on this one music video and jokes Daryl is now played by a broom (apparently one with giant googly eyes).
Paula discusses her concerns about Rebecca to her husband Scott and reveals she's trying to "wean" herself off Rebecca's hijinks. Paula says she used to think her empty feeling was because of their marriage problems but now that they're "boning all the time" she knows that's not it. Meanwhile Josh defends his actions to Hector. Loving the "crazy girl" sex and not wanting to move back home, Josh refuses to break it off with Rebecca but promises to tell Greg soon.
To prove exactly how wrong Josh is we cut straight to Rebecca showing him his new pimped out drawer. Josh tries to wriggle free but Rebecca is able to pull him back in with her kinkiness. This time it's handcuffs. After the handcuff sex Josh goes to sleep on the couch. In his dreams Greg points out that he and Rebecca never technically broke up. A freaked Josh decides he must leave Rebecca's immediately and says they need to pause until they clear up the situation with Greg.
Obviously Rebecca has to find Greg immediately now. She may waver between Josh and Greg, but she's consistent in her desire to not be alone. Rebecca calls Greg's Mom and finds out that she's fine and hasn't seen Greg in weeks. Next she tries everyone at Home Base, but still no luck. Despite Greg's angry dad turning Rebecca away, it turns out Greg is there and has some big secret.
The next morning Josh's boss catches him sleeping on packing material at work and insists he cannot stay there. At the law firm Rebecca tries to convince Paula to use her scary-good skills to find Greg. Seeing Daryl give White Josh a key to his apartment just strengthens Rebecca's resolve. After Paula finally concedes, they quickly triangulate Greg's location (because of course Paula has the IP address of his phone memorized). Meanwhile Josh's mom loves that he's moving back home.
Finally Greg reveals his big secret (inadvertently): he got a DUI the morning after the wedding and has been in court-ordered AA meetings since. Rebecca and Paula conveniently overhear him retelling the whole story and admitting he's an alcoholic to the group. Rebecca realizes it's probably not a great time to tell Greg about her and Josh. Paula recognizes that the way Greg described his alcohol addiction as the way she feels about Rebecca's hijinks and writing a great brief at work. Trying to keep her "addiction" in check, Paula gives Rebecca a friendship contract. Rebecca signs begrudgingly but praises Paula for the contract itself.
At Home Base Josh laments about living with his parents again. Hector, who also lives with his mom is not helping. Next thing you know, Josh is back at Rebecca's door. They both agree that they should hold off until Greg's in a better place. This is like telling a kid not to touch something. The second musical number, "We Should Definitely Not Have Sex Right Now" depicts their lack of self-control. The episode ends with a conclusion for most of the characters: Rebecca snuggles up to Josh post-coital, Daryl and White Josh look adorable eating and looking through a magazine, Greg drinks orange soda while watching TV (and his Dad drinks beer), and best of all, Paula looks into applying to law school!
Well this was a very eventful episode! I do wish there was more Greg, Heather and Daryl. I mean there was more of Hector than Heather in the episode for crying out loud. Aside from that, I found this to be a very satisfying season premiere.
What are your thoughts on this week's episode?
Crazy Ex-Girlfriend airs Fridays at 9/8 on The CW
Crazy Ex-Girlfriend Season 2 Episode 1 Review: "Where Is Josh's Friend?"
Summary
Crazy Ex-Girlfriend returns with a bang, or rather some banging as Rebecca and Josh figure out their relationship while Greg hides a secret.