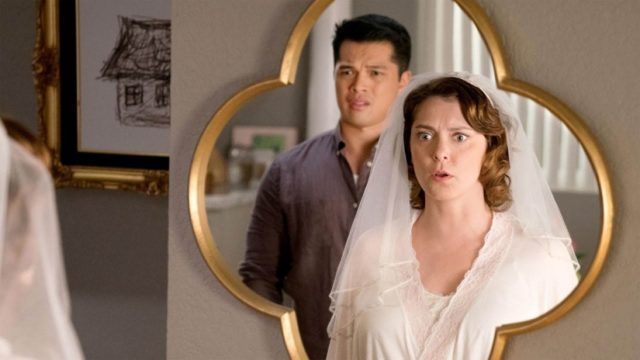 It's hard to believe, but it's time for the season finale of Crazy Ex-Girlfriend, "Can Josh Take a Leap of Faith?" I understand the shorter season order, but, personally, I would have loved another 18-episode season. Here comes the bride, all dressed in…daddy issues.
Thrilled her Dad, Silas, has come for the wedding, but not wanting to be too needy, Rebecca tries to casually text her dad to hang out. Paula shows up with a veil she made leading to the first song, "What a Rush to be a Bride," a hair-metal rock out about how she's finally marrying Josh Chan.
Later, Rebecca expresses her excitement about her Dad being in town, but is disappointed when he blows her off until the rehearsal dinner via text. Rebecca then tries on the veil and flashes back to another time she was wearing a veil (and a Harvard T-shirt) and says "oh Robert" in the flashback and the present, which Josh notices, becoming concerned.
Darryl has a little bachelor party for Josh at Home Base and notes how unenthusiastic White Josh is about the nuptials. Josh asks Darryl about the cool new client "Robert" (Rebecca's cover for saying Robert), but Darryl points out the description Rebecca gave is of Erin Brockovich. Darryl asks WJ about his attitude. WJ points out that Josh and Rebecca probably shouldn't get married. He also reveals he doesn't believe in marriage. This is news to Darryl.
Josh has a drink with Father Brah and asks about his commitment to his "marriage" to Jesus, wondering if Brah ever questioned his decision. He did not, of course, because Father Brah is the best.
Rebecca bounces with excitement at the rehearsal dinner, especially because of her Dad's attendance. Paula tries to warn her that her dad may not be a completely different person just because he came. This falls on deaf ears, almost literally, when he finally shows up and Rebecca squeals in delight. Her mom has a comical "phlegm ball" gagging moment.
After a long-enough time for people to start staring, Rebecca's still hugging her dad. She giddily takes a pic of Josh and her Dad meeting. Josh asks cute co-coach (as I call her) to talk about Rebecca, clearly still fishing about Robert. Rebecca, meanwhile, plots her elaborate father/daughter dance.
Nathaniel shows up uninvited, exalting his heroic act bringing Rebecca's dad, but Rebecca's more interested in watching Josh talk to her Dad outside. Josh finds out that Robert had something to do with Rebecca going to Yale Law, rather than Harvard, as intended. The next day Josh coaches with cute girl and notes the mystery surrounding Rebecca.
Rebecca shows up to her father/daughter dance rehearsal where the instructor asks for nice moments. This poses a challenge, but they soon bond over their renewed relationship… until he asks for money (apparently for his son's braces). Dr. Akopian points out Rebecca's trend of pursuing unavailable men. Rebecca flashes back to the scene with Robert when he apparently dumped her. Turns out he was her married professor. She then yells out in another episode to Dr. Akopian, but this only makes Rebecca fear her Dad will leave, so she runs out to find a way to make him stay.
At the house, Josh strikes up a convo with Rebecca's mom about Robert. She lies saying it was their dog and when josh pushes, Naomi shuts him down. Rebecca arrives at her Dad's hotel with years of Father's Day cards and the money he asked for.
Meanwhile, Trent is digging for the mysterious Robert/Harvard Law details to ruin the wedding.
After Rebecca leaves the morning of the wedding, Josh sits in the house upset when Father Brah comes to pick him up. Rebecca looks out on the beautiful Cliffside view of the ocean at the wedding venue, singing "Rebecca's Reprise," a reprise of several CXGF songs about how her life has finally come together.
Josh talks to himself in the mirror trying to shake off his doubts. Just as he's about to head out the door, Trent shows up with the folder of answers. He goes to talk to cute coach girl about opening it. She encourages him to talk about it directly with Rebecca. Commenting on her attractiveness, Josh realizes he's about to repeat the pattern Father Brah pointed out about him looking to a pretty girl to solve all his problems.
Rebecca and Paula have a sweet mother-daughter-type moment once she's in her dress. Her actual mom just sits there and complains about the beach air affecting her hair.
Darryl and WJ decide not to argue. WJ is just excited about Madison being flower girl, which is cute but random. WJ looks momentarily relieved when Darryl says they don't have to get married until Darryl suggests a baby.
When Heather goes to meet Josh, he rides up, but then immediately rides off. He goes to a park staring at the folder. She and Valencia go to tell Rebecca that Josh is missing, but that Father Brah has talked to him. The women overwhelm him, but he tells them it's not what they think (that Josh has run off with cute coach girl). We see that Josh actually threw away the Rebecca packet and decided to become a priest.
Rebecca runs down to the edge of massive cliff as her friends and guests follow her. She wonders aloud why every man she's ever loved has left. The ladies finally hear about Robert as Rebecca flashes back to her final showdown with Robert. She she lit some of his stuff and, therefore his house, on fire, requiring her to go to a mental health facility. There the nurses comment that she just sings to herself all day. Rebecca says it's her fault, but Paula blames Rebecca's father (standing watching with the other guests). Silas decides to leave (which Rebecca is okay with), but not before he calls her crazy. Nathaniel proves he's good when he refuses to give Silas his plane and calls him a dick.
Paula promises revenge with some petty acts on Josh like toilet papering his house and hacking his Facebook, but Rebecca says no. Is Rebecca letting it go? Of course not. That stuff just isn't enough, they're going to "destroy Josh Chan."
I don't know about you, but I'm very excited to see where all this will go next season, especially because Rebecca now hates Josh like I (mostly) always have.
Side notes:
They at least mentioned Greg, but I would have appreciated lip service to the fact that he's not there because of their complicated history.

Is there going to be a bigger story line with Hector and his Mom? Because it's getting creepy, with no real payoff.
Tell us what's wrong with this post? How could we improve it? :)
Let us improve this post!