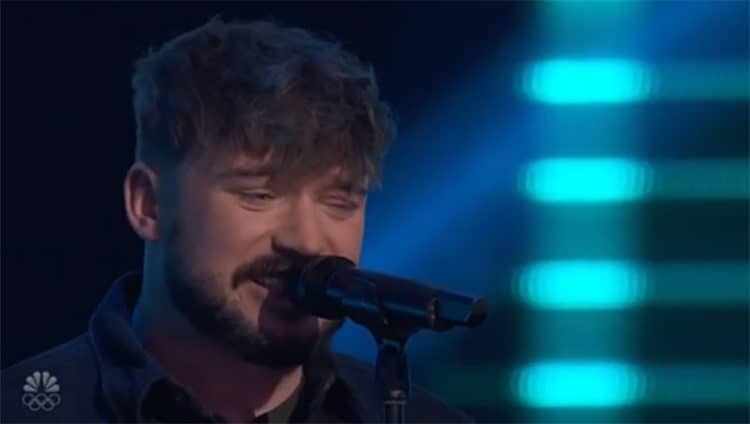 Corey Ward has always envisioned himself making it as a singer, and how he's getting the chance to turn that vision into reality. As a contestant on season 20 of The Voice, Corey is hoping to go all the way and he's off to a great start. His performance of "Dancing On My Own" by Robyn was enough to get two of the four judges to turn around and convince him to join their team. Corey decided to go with Kelly Clarkson and the two seem very excited to be working together. Not only are Corey's loved ones excited to go along with him on this journey, but there are already a lot of viewers who feel the same way. Keep reading to learn 10 things you didn't know about Corey Ward from The Voice.
1. His Father Inspired Him To Get Into Music
Like many of the other contestants who have come on The Voice, Corey has been around music for almost all of his life. His father is a drummer and was the person to introduce Corey to the possibility of being a musician. Corey started playing the drums at an early age and eventually learned the guitar.
2. This Isn't His First Time On The Voice
If you tuned into The Voice last season then you may find that Corey's face looks a little familiar to you. He did a blind audition during season 19, but unfortunately none of the judges turned their chairs around. Gwen Stefani, however, did compliment him on his voice.
3. He Likes To Travel
Corey is an adventurous person and he likes to get out and see as much of the world as he can. Traveling is one of his favorite things to do and he has gotten to visit places all over the United States. If he ends up winning The Voice, he'll get the chance to do even more traveling.
4. He Has A YouTube Channel
Corey started a YouTube channel back in 2010 where he uploaded several videos of himself performing. Unfortunately, he hasn't posted anything new in about 8 years. Even without being consistent, his channel has still gotten more than 87,000 total views.
5. He's Originally From South Carolina
Corey was born and raised in South Carolina, but he's moved around quite a bit. About a year ago he relocated to the Atlanta area and he's been living there ever since. As Atlanta continues to become a hub for entertainment, it might just prove itself as the perfect place to be for up and coming artists like Corey.
6. He's A Cubs Fan
Despite never having lived in the Chicago area, Corey appears to be a very dedicated sports fan. In the summer of 2018 he even attended a game at Wrigley Field. Now that the baseball season is underway, Corey and the rests of The Cubs' fans are hoping the team makes it to the World Series.
7. He Participated In Blackout Tuesday
Social media isn't really Corey's thing, in June 2020 he did make it a point to participate in a virtual show of solidarity called Blackout Tuesday. The movement was an online protest forpeople to show their support for the Black Lives Matter Movement and the fight against racism.
8. Family Means Everything To Him
Corey comes from a very close knit family and he has been very thankful to have his loved ones as a support system. During season 19 of The Voice, Corey was devastated when his mother was rushed to the hospital due to cancer complications on the day of his blind audition. His father also suffered from a heart attack around the same time. Fortunately, both of his parents are recovering.
9. He Hasn't Released Any Original Music
Although Corey has been a musician for several years, he hasn't gotten to the point where he's released his own music. We also weren't able to find any information on whether or not he has an projects in the works. Now that he's been on The Voice, there are a lot of people out there who would love to hear some original music from him.
10. He's Always Looking For Opportunities To Grow
Trying to pursue a career in the music industry comes with a lot of ups and downs and that's something Corey has had to learn how to deal with along the way. He's faced his fair share of set backs, but he's never let that stop him from moving forward. Corey is thankful for every opportunity he's gotten and he's constantly looking for ways to improve as an artist.