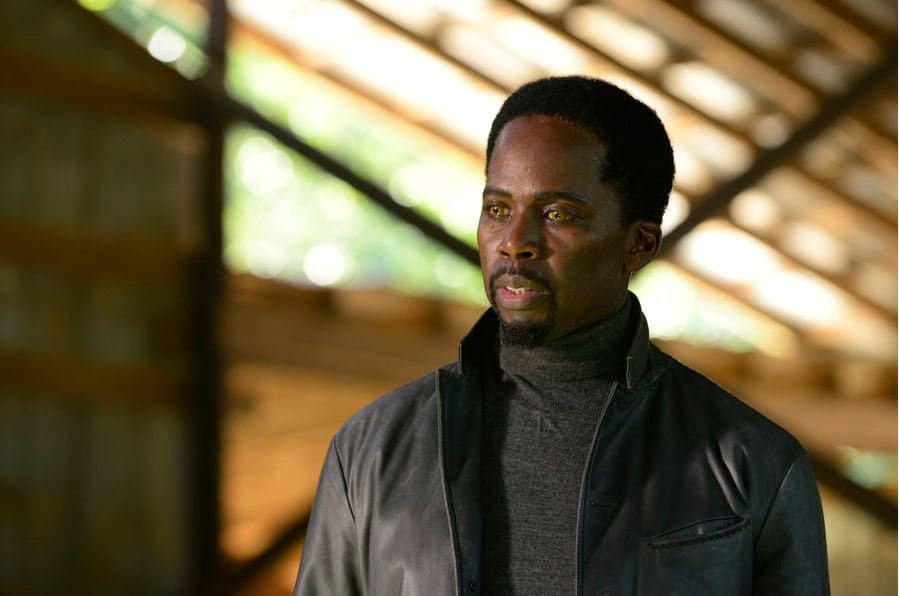 As we are closing in on the first part of Constantine's first season, last night marked as one very strong episode for the NBC drama as an angel becomes the villain of the episode.
One of the things that I have wanted to see more of in these past couple of weeks is the Harold Perrineau's Manny as he is one of the most intriguing things about the show since the pilot. For some reasons, his appearances have been very limited and knowing now that at least the first season won't go beyond 13 episodes, I want more screentime for him. Luckily this week, my wishes came true as we got a bigger sense of his character.
Before I go on, the whole plot with the preacher becoming a healer was somewhat of an eye roller. Heck, the first couple of minutes of that arc gave me The Simpsons vibes when Bart became a healer temporary. Although Bart never had to face the consequences of having the people he healed turn into Ghouls so there is that. However, once we learned that the Angel Imogen was in fact a fallen one and that she planted that feather with the preacher, the arc got more interesting. As a matter of fact, once we saw what the healing did to the guy who got his leg back, I was hooked in.
My favorite part of the episode was in fact all the scenes Manny was in and the interactions he had with Imogen before she revealed that she was playing them all. Parrineau gave us a very deep performance where you see that Manny, while being somewhat of a tricky player for Constantine, has some struggles of his own that he has to deal with. I'm getting to the point where I'm desperate of wanting to find out what Manny's background is because I think seeing the origin story of an angel like him, could be a lot of fun.
There are also a lot of great Constantine and Zed (or as I call them, "Zedstantine") moments in this episode. Can we just talk about the first scene where Zed comes in all excited about what she saw in art class and talks about it while John talks over her? That scene gave me so many Tony Stark/Pepper Potts vibes from the Iron Man films that I wanted that scene to go on for longer. Their relationship has been one of the major things that I have loved to follow since Zed showed up in episode 2. However, I'm starting to sense a pattern here where every time Zed has a big presence, Chas is almost never or at all in the episode.
Whenever Chas is there, Zed's presence is then decreased as well. I don't understand why we can't have more scenes or episodes where the whole team works together because there are still a lot of things that I want to know about Chas and hopefully next week, they will both be by John's side in an equal capacity. I was however happy that John finally told someone about his interactions with Manny because that's one less secret to keep and to be honest, was there really any good reasons why he had to keep it a secret from his mates.
The final scene was a pretty interesting one as we see the character Eddie, one of the students in the art class that Zed went to, sitting in a car with a mysterious back in the backseat as they were hoping that she would show up on their date. I have no idea what they could be up to, but one thing that is certain is that Zed better watch her back. Overall, "Blessed are the Damned" was a solid episode and a stronger one from last week's episode, mostly because of the fleshing out of Manny. I'm pretty sure that last scene is a setup for next week's mid-season finale which I'm very excited to see and hopefully then, we will know a lot more about Zed's past.
Don't miss Constantine's epic mid-season finale titled "The Saint of Last Resorts" next Friday, December 12, 9/8c on NBC!
Photo via NBC