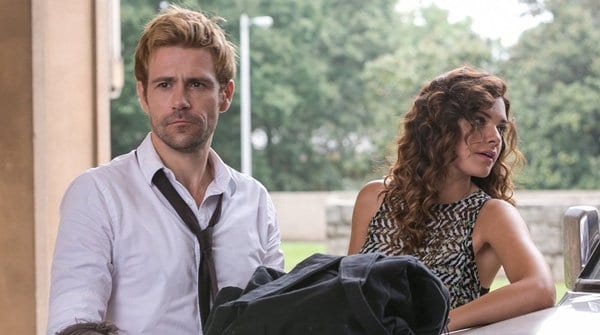 NBC's Constantine is continuing to impress me as the third episode was another step up for the show since the pilot, with the introduction of DC villain Papa Midnite (Michael James Shaw).
One of the things that I have enjoyed a lot since the pilot is being able to come into the show as someone who isn't familiar with the magical and occult aspect of the DC Universe. Other than the one or two issues that I have read with Constantine in it, I have zero knowledge and that's why it makes so much fun to invest in the show.
The demon of the week was this vinyl record that was, well, so demonic that would make your ear hurts and eventually kill you if you listened to the music. It was hard to follow the plot this week a lot because John and Zed ended up going to so many different places in order to find out the mystery. It started to get much easier though via the character Jasmine, who at the beginning of the episode finds the record.
Jasmine had apparently given up her soul in order to save her husband from dying of cancer and she needed the acetate which essentially seemed to be a way to get out of hell. The man she had given up her soul was to a character named Anton who has been forced by Papa Midnite to do the deal with her. Here we get introduced to Papa Midnite, one of John's uneasy allies from the comic books, but is presented as one of John's old enemies in the show. I want to start by talking about the costume, which was this very unique and exotic suit.
It stands out a lot when it comes to previous villains I have seen in other shows that usually go with suits. It definitely pays homage to the comic version from photos that I have seen, all that was missing was his hat, but I'm sure we will see it sooner or later. I'm not familiar with Shaw's previous work, but he definitely hooked me into his character with his performance. It seems from reports that he is either the main antagonist of the first season or one of the recurring ones. Either way, I like the addition of Midnite to the show and I really want them to explore his and John's relationships in more episodes because they had a cool interaction.
I forget sometimes that the Constantine we are seeing here is someone that has been dealing with magic and the occult for a long time, so it was mind-blowing when he basically opened up a portal to hell. The portal took the acetate with it as well as Midnite's henchmen, who both had been corrupted by it, and Midnite didn't get what he wanted. Later on, Chas and John force Anton to eat the contract so that Jasmine's soul could be saved. Am I the only one who felt that the aspect of literally eating up a contract to save her soul was just a bit too easy? However, if I can accept John being able to open up a portal to hell, I should be fine with a contract being destroyed simply by eating it.
Overall, "The Devil's Vinyl" was a very good episode that continues to flesh out the show, and I can't stress enough how much Zed is helping Constantine as its female lead. She fits in with this little gang, and once again, I like that this show has such a small cast, which makes it easier to follow each character.
Constantine airs on Friday nights, 10/9c on NBC.
Photo via NBC