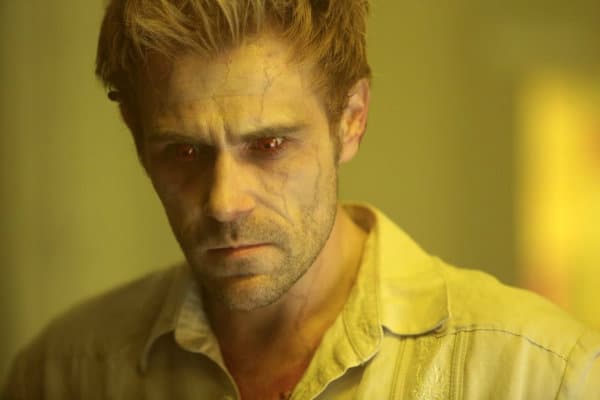 The second DC television show to return after its hiatus is NBC's Constantine, which picks up right where we left off in the winter finale last month with John Constantine on the edge of dying. While a strong opener for its 2015 return, "The Saint of Last Resorts: Part 2" would have probably been better if it had aired back to back with its previous episode in late December of 2014.
After Ann Marie shot John in the previous installment, we see John forcing himself to put a demon inside of himself in order to survive. Unfortunately, that demon just happened to be Pazuzu, who was nothing more than trouble for our heroes. This was perhaps my favorite part of the entire episode, to see John essentially acting as the "villain" of the week. Matt Ryan, who has genuinely been a blast to watch in every episode, got to show more of his strong acting abilities.
One of the things that felt kind of rushed was the continuation of Zed's arc after she got kidnapped in the winter finale and was on her way to see her father. I didn't mind seeing her kick some butt in the opening, but at the same time, the way they executed that arc previously felt like that maybe Zed wouldn't be able to help John out in this situation. Regardless, it's not the end of it and I'm sure we will see more of her background sooner rather than later. The episode itself really deals more with John's, as well as Ann Marie's, inner struggles.
It was compelling to see John admit that while he does not fear death itself and what is waiting on the other side, he does not want to die anytime soon. Well, for starters, like Manny said, maybe he should consider quit smoking, which I get is important to a lot of Constantine/Helllblazer fans, but still. On a serious note, though, to see someone as rough and cocky that as John is most of the time, it was really refreshing to see John's softer and, quite frankly, more human side, shown by his desire to not wanting to die so early. This was a good aspect of John's character that we had not yet seen explored.
However, it was just utter fun to see John possessed, although it was absolutely terrifying as soon as that demon would start to take him over. The best moment with Demon-John was at the end where he basically ripped on Ann Marie, Chas and Zed (also calling her out on her real name). When Ann Marie was finally able to forgive herself for Newcastle, that's when the madness all ended. I hope she will be back in at least one of these four upcoming episodes, perhaps for a Newcastle reunion of some form?
Overall, this is my favorite episode of Constantine to date, as it kicked off the remaining episodes with a hellish bang. My biggest concern though is whether or not the show will get to live on for another season, as NBC presidents recently said that the future of the show is still up in the air. The 8 PM timeslot move didn't seem to help or hurt the ratings, although it dipped a little bit from the finale. Hopefully, NBC will make a decision that will make us Hellblazers happy.
Constantine airs on Friday nights, 8/7c on NBC.
[Photo via NBC]