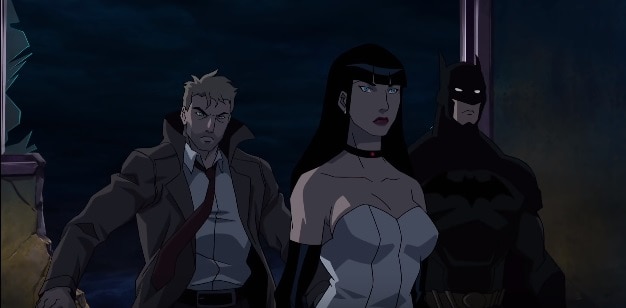 As revealed in a sneak peek special feature on the home video release of Batman: The Killing Joke (check out my review for that film here), Matt Ryan is officially voicing John Constantine in Warner Bros. Animation's upcoming DC Animated Original Movie Justice League Dark. A fan-favorite from the short-lived Constantine on NBC, Ryan has been considered the definitive portrayal of one of the most supernatural and loved characters of the dark side of DC's universe.
As for the rest of Justice League Dark's roster, we can only speculate based on what we see in the sneak peek. It appears that joining Constantine will be Swamp Thing, Zatanna, Etrigan, Deadman, and Black Orchid. In addition, various members of the Justice League have been confirmed to appear, including Batman (who seems to be taking on a large role on the new team), Superman, and the John Stewart Green Lantern.
This news should surely come as a welcome surprise for fans of Matt Ryan's turn as the character, and, while not a continuation of the television series, it should allow for Matt Ryan's work as Constantine to continue into the future. In addition to Matt Ryan, Camilla Luddington joins the cast as Zatanna with Ray Chase voicing Etrigan and Nicholas Turturro voicing Deadman/Boston Brand. We still don't know who will be voicing Swamp Thing (another fan-favorite character), but more should be revealed as we approach the 2017 release.
Check out the sneak peek at Justice League Dark below!
[youtube https://www.youtube.com/watch?v=cddLDL_kKOU?rel=0]
Are you looking forward to Justice League Dark? Is Matt Ryan's return a positive? Let us know your thoughts in the comments down below!