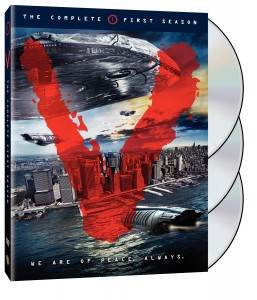 They come in peace, and Tuesday they come home: the complete first season of ABC's new V is released on Blu-Ray and DVD this week. I have an early look at the DVD edition for you today.
The Show
I suppose I have to start with a confession: I've never seen one minute of the original V. It never interested me. Though I suppose I've made things somewhat even by never having watched this incarnation until I opened these DVDs. This one actually did interest me, if only because Joel Gretsch (Taken, The 4400) is in the cast, but for various reasons it's remained "that show I skipped the press room for at Comic-Con because I managed to work myself to exhaustion."
To that end, here's a brief summary: spaceships appear over 29 major cities in the world, and of course the aliens aboard (referred to as "Visitors," hence the title) claim to be coming in peace. They even make a persuasive argument by curing diseases and the like. Yet it's not hard to guess that they don't really mean well, and a small group of resistance fighters (including Gretsch, Elizabeth Mitchell from Lost, and Morris Chestnut) bands together from divergent backgrounds to thwart the Visitors' real plans to conquer Earth. Like The 4400, V is science fiction on the surface, but is almost more of a social commentary (Scott Peters, the show's head writer, was one of the executive producers of The 4400 as well). After all, the original miniseries was itself inspired by a novel about fascism in the United States.
This brings me to an important distinction. I'd dare to say that V is almost more allegorical than anything else. Those looking for something more entertaining and less cerebral probably won't enjoy it; likewise, those who feel television can get preachy probably won't have patience with the show's hinting at real-world issues. The original V wasn't escapist sci-fi and this one isn't either, despite the shiny update. Yet that's what makes it interesting to those who do enjoy having something to chew on. In that sense you're either going to like it or really dislike it.
Another worrying issue is that while the series has been renewed for a second season, ABC has shown signs of falling out of love with it. Not only did they push the show to midseason, they cut the episode order from 13 episodes to 10. In this cynical TV world we live in, I can already hear people balking, not wanting to bother watching the first season of a show that may not make it through its second.
Since they share similar intentions, a cast member and a producer, I keep comparing V to The 4400, which I watched until the bitter end despite how it sometimes made me cringe or laugh out loud when I wasn't supposed to. That show sometimes got sloppy and ridiculous (especially in the final season); V makes more sense, at least so far. Yet I haven't quite enjoyed it as much either. Both shows are a mixed bag. I can't give this show my full support, but people looking for a throwback to classic sci-fi (with its allegories and often bleak endings) will find something familiar in it.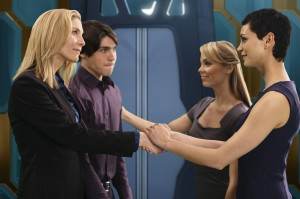 The DVDs
WB always does a pretty good job with their packaging, and V is no exception. The front cardboard case has a cool reflective cover like the ones for Fringe and Human Target, and the inside plastic case slides out so you see the rear first (just like with Human Target). The inside box art and disc art are appropriately sleek-looking, and the set comes with the standard guide (episode titles, summaries, credits and air dates) that we've come to expect for a Warner release. There's one minor difference: since V has only 13 episodes, the guide isn't the usual booklet, but a foldout pamphlet. Either way, it still contains all the good stuff.
The case is arranged similar the Dollhouse set I reviewed the other day: two discs on opposite sides of a flippable spindle, with the third disc resting on the rear of the case itself. Not bad at all, and it keeps the discs from laying on top of each other.
There are some pretty cool menus here, and it's fitting that for a show about the entire Earth, we have language support for everything. There's English and Portguese audio, plus subtitles for English, Spanish, French, and a few languages I don't even know. The episode selection menus will also tell you which episodes have deleted scenes and commentary (which can also be accessed from the "features" menu). There's no scene selection here, though.
Audio and video look pretty great here. There's a widescreen presentation that is clear; although there are some scenes that are fairly dark, it's not debilitating. Audio comes through without difficulty as well.
The Special Features
The bulk of the special features on this set are featurettes. There are four, to be exact:'
"Breaking Story: The World of V"
"The Actor's Journey: From Human to V"
"An Alien In Human Skin: The Makeup FX of V"
The Visual Effects of V"
The former pair are the standard "making-of" featurettes, talking about how the series came to be and how it has been approached now that it's been almost 30 years since the original miniseries. Particularly, I like the second one, since we get to hear the cast members' thoughts on and approaches to the material, and it's not just the "talking head, everyone loves everyone" kind of fluff. The latter two explore the makeup and effects that bring the sci-fi saga to life. All of them are worth a watch for fans of the show, although your enjoyment of the last two will no doubt depend on how much of the technical aspects you're interested in. I find this stuff fascinating; others might find it boring.
In addition to those, you get one commentary track with the producers (on "Fruition") and a handful of deleted scenes. Neither are particularly memorable in my opinion. I remember when Joel Gretsch and Jacqueline McKenzie did some really fun tracks for The 4400, so I would've liked to have seen what Gretsch and Elizabeth Mitchell (or even Morena Baccarin) might have said for this show, but no such luck.
The Bottom Line
Fans will be happy with this release, which presents the episodes well and gives plenty of information on how the series came to be. Like Dollhouse, blind viewers may be wary of getting involved with a series that might not last, but if you're in the mood for some issue-dissecting sci-fi, it's worth a look. I have to say this show was worth the buzz, although only if you're willing to engage your brain and think about it as you watch, as opposed to the more escapist "things are blowing up" kind of sci-fi.
Amazon has this set for $25.99 as of this writing, which isn't a bad deal at all for a brand new TV on DVD release. You can click on the box art above to order directly from the e-retailer. Otherwise you can pick up your copy in stores on Tuesday, and check out Season 2 on ABC in 2011.