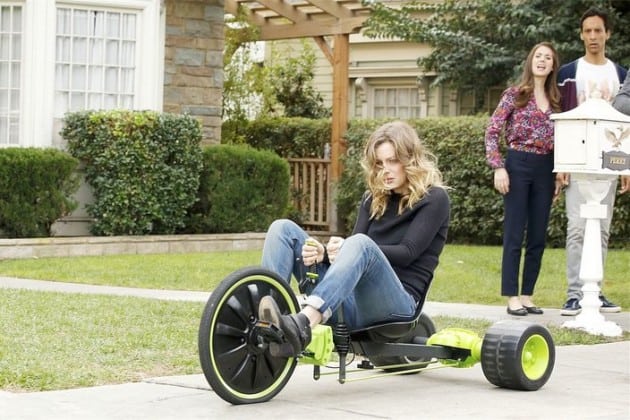 "How much can you improve Greendale before it stops being Greendale?" This question posed by Jeff Winger in the first episode of Community Season 6 is a true illustration of the new situation the series finds itself in. How many characters can you lose, or how many times can you be brought back from the brink of cancellation (or just plain resurrected) before your show isn't your show anymore? Really, it's quite prophetic. However, after seeing the first two episodes of Season 6, I have concluded that, apparently, Community can go quite awhile.
This week's adventures of the Greendale gang include: The introduction of two new characters (Frankie and Elroy), the roof of Greendale collapsing under frisbees, and Garrett and Leonard becoming evil? Also: The Dean buys a virtual reality machine that he's unable to return, and Britta moves in with Annie and Abed and discovers a startling truth about her friends and her parents. We also get to learn what becomes of Shirley (she's still on NBC).
I love Community. I always have. I've been through so many almost cancellations (and one cancellation) that I'm surprised my heart hasn't given out by now. I, too, joined the ranks of the many who were worried that losing so many characters from the original cast would taint the show. I was worried that it wouldn't be the same. But I was wrong. Don't get me wrong, there are changes, and I certainly prefer the old cast to the new, but there was something so comforting about being at Greendale again. No matter what happens there, it still feels like Greendale. I was comforted knowing that, no matter what changes come, some things will always stay the same.
These episodes largely feel like a reset of sorts. There were lots of jokes about Pierce's hologram, Shirley's whereabouts, and lots of familiar faces (Todd, Garrett, Leonard, NATHAN FILLION), but also big introductions to new characters Frankie and Elroy (the new Shirley and Pierce). While establishing the "new rules," if you will, this largely feels like the same show that it has always been (sans the gas leak year). I laughed, I cried, I lost 15 lbs. I have to say, I'm so glad that Community is back.
The most important thing about the most recent reboot of Community is that it's still funny. I've always been worried after Season 4 that it won't be as funny as it once was. These two episodes quelled my concern. They're funny. They're VERY funny. Creator Dan Harmon and his writing staff have, of course, come up with more and more ridiculous things to happen, but they've also come up with simple things that are HILARIOUS. Like Britta's parents being kind, loving people. Who knew? Community is back with a vengeance and it's very much still funny. It's "weird, passionate, and gross" and it always will be. And I'm so thankful.
Here are some of my favorite quotes/moments from the episodes:
– "In marketing, it's what we call the good Belushi."- Frankie
– "I think you scare people, because you live in the real world instead of up your butt."- Abed
– NATHAN FILLION.
– "WELCOME TO LADDERS!!!"
– The montages, particularly of apologies to Frankie.
– "Britta's a rich genius with superpowers and she's going to live on our sofa for NO REASON."- Abed
– Britta failing at the Troy/Abed handshake.
– "Stop saying 'Jesus wept'."- Jeff
– Jimmy Fallon syndrome. Basically all of Frankie's analogies have to do with Saturday Night Live.
I'm so excited for Season 6 of Community, and I'm so grateful to Yahoo Screen for reviving it for me. For us. For everyone. Six seasons and a movie. Fat dog for midterms. Pop pop!
What did you think? Did you enjoy the new, slightly different Community? Let us know in the comments!
[Photo via Yahoo]