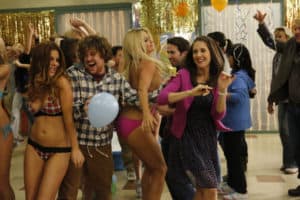 Dean asked the study group to help him poach a whale for the school; a whale by the name of Archie DeCoste. The kid had $8 million at his resources, but since he was a complete moron (he sold pot to a police officer inside a police station), he was a perfect candidate for a Greendale student because he would spend endless funds on useless things like premium locker and an extended pencil warranty.
The hitch in the plan was that Pierce could not be there. Seeing that he was completely selfish and freaks when the attention was not on him, naturally he would try to make sure that Archie didn't show up at Greendale and be the new fish in the pond.
Oh look Archie was played by Zack Pearlman, he played Jay in the ill-fated The Inbetweeners U.S. remake. Zack's funny, it's just a shame that he was on a terrible show.
Elsewhere, Troy and Shirley were in a class where you learned to become a physical education teachers and Jeff spent a day with Pierce at barbershop.
In the end Archie, decided to go to Greendale but does this mean that he's joined the cast? Zack's IMDB page says otherwise.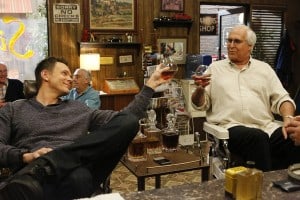 Like the rest of the episodes this season, this episode of Community was a little disjointed and some of the subplots were completely useless. I like when Troy and Shirley are put together, but their story arc didn't really prove anything.The plot where Jeff realized that Pierce wasn't all bad, just 98 percent bad was cool. Even Abed's Revenge of the Nerds-esque plot was cool, just wished it had more screen time than it did. Actually, I'm surprised that the issue of fraternities hasn't really come up that much on the show or would that be too "on the nose?"