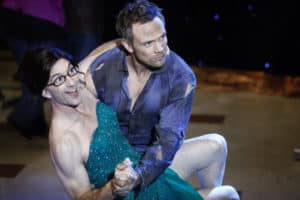 When Dan Harmon got the boot from Community, I weren't too sure if the show would still remain the quirky and oddball show I fell in love with. After a delayed premiere date, I think it's safe to say that although Community may not exactly be the show it once was.
While the first episode had some good standout moments like fake shows Greendale Babies, American Sword Cooks and Blind/Blonde (all which needs to be shows ASAP) and Fred Willard as Pierce in Abed's live studio audience happy place, that was pretty much it.
The plot of the episode was that Abed was unhappy that it was their last year of school and that Jeff wanted to graduate early. This led to a part of the show that was highly promoted in TV spots and numerous articles on the Internet, but never really lived up to what I thought it would be in the episode.
The Hunger Deans was supposed to convince loyal Human Beings that just because Community changed hands, it would still be the same Community. Where the hell were the Hunger Deans? Like a Greek drama, everything happened off-screen or for a few seconds. The introduction to the event and the creepy seductive tango between Jeff and Dean, which may be the best thing the two have done since their epic "Kiss From a Rose" duet, happened in blink or you'll miss it moments.
Then again, this was just the first episode and not every show that changes hands behind or infront of the camera lives up to the pre-existing hype.
Will Community ever find its way back to its Harmon-like self? I doubt it, but let's hope under new management the show will bring on the funny, help secure some viewers and fifth and sixth season and a movie.
Tell us what's wrong with this post? How could we improve it? :)
Let us improve this post!