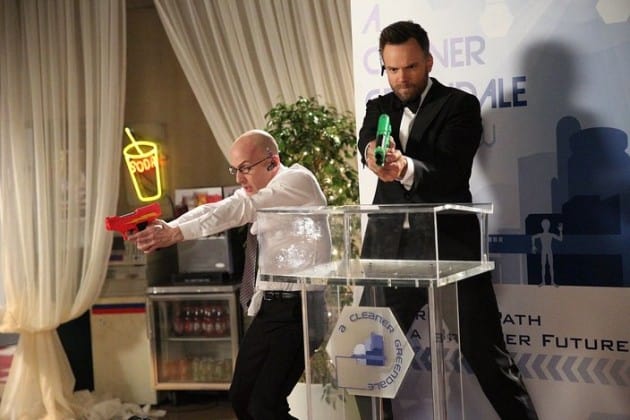 As Community winds down, I just can't help but be glad that we got ANOTHER PAINTBALL EPISODE!! That's right. For what is probably the final time at Greendale, our heroes participated in a campus-wide paintball game. This time, it was all about trying to avoid Frankie's detection, but it still felt like home again.
This week on Community: Star Burns, Todd, Garrett, Vicki, Koogler, and Lapari (Kumail Nanjiani) return as Greendale is once again bitten by the paintball bug. Frankie tries desperately to stop the underground paintball game, seemingly sponsored by City College.
Community will stay timeless for many reasons. I know I've already talked about how much I'm going to miss Community and how I've loved it all this time. But what will keep it immortal? Episodes like these. The greatest episodes in Community history will be the high concept ones that nobody forgets. Do you know how many times I STILL tell people "Denny's is for winners?" That was from the first paintball game. There is plenty of memorable stuff that happens, and I try to subtly remind people of that every week, but episodes like these are a cut above. When and if there is a Community movie, I desperately hope it's an action comedy, because it works so well in that genre, and this episode just proves it. It was epic, but also hilarious and fun. I mean, really, what more can you want?
One of the running themes of Season 6 goes back to one of the things Jeff said in the season's first episode. How much can we improve Greendale before it stops being Greendale? This episode really brought that idea back to the forefront. It's really a quite excellent metaphor for Community as a show, too, since it's lost so many characters and its network of origin. How much longer could it go on and still be itself? Well, this episode not only asked that question, but gave a firm answer. What answer? Well, it can stay itself as long as it keeps cranking out episodes like this. "Modern Espionage" is another half hour that takes Community back to its roots, but feels new enough to keep longtime fans interested. I was giddy to see Star Burns, Vicki, and the rest of the supporting crew paraded through as paintball resurfaced at Greendale for what is (probably) the final time.
Before I go on to my favorite quotes and moments… how great was the entire sequence when Jeff and Dean Pelton chased down Lapari into the custodial museum? Definitely one of my favorite sequences of the season so far.
Anyway, here are some of my favorite quotes/moments from the episode:
-Veni Vidi Vicki
-Star Burns!!
-"Handling turds has rubbed off on him,"- Jeff
-"Desperate deans call for deans-perate measures."- Dean Pelton
-"DJ might be the guy from MeowMeowBeenz."- Abed
-Dean Pelton accidentally beating up everyone in the elevator. Priceless.
-"I THOUGHT YOU GUYS WERE MANNEQUINS! WHAT A BACKFIRE!"-Lapari
-The entire baby-talk bit.
-"I made a stinky."- Elroy
In case I didn't actually say it, I loved this episode. It was funny, and it's been so refreshing to see Community embracing its roots again. Is it selfish of me to want to see Shirley, Troy, and Pierce's hologram one final time before we call it quits? That's all I have left to be totally satisfied with the run. But hey, I'll take a movie.
What did you guys think of the episode? Did you enjoy it as much as I did? Let us know!
Community streams every Tuesday on Yahoo Screen.
[Photo via Yahoo]