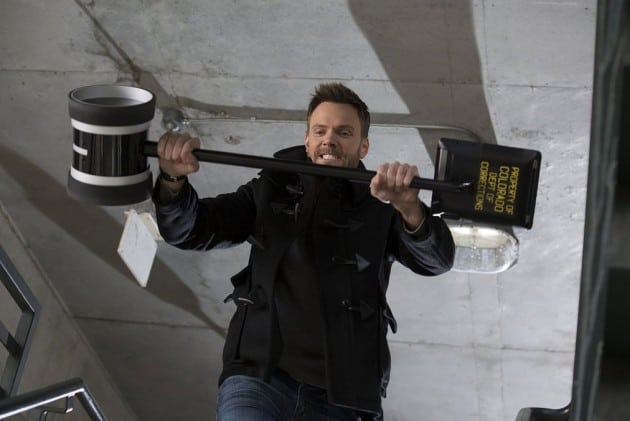 Community, in all its beautiful glory, will never cease to make me laugh. I'm convinced that I would never stop watching it for anything. The reason, of course, is that NBC, Yahoo, or wherever they continue to produce content will allow them to tell stories that are heartfelt, funny, and ridiculous, all at once!
This week on Community: The school starts a program for inmates to attend classes virtually, using iPads on wheels. Jeff, an "easy A" class teacher, gets into a feud with one of his inmate students. Britta wants to have a party at their apartment, but Annie is way against it, so Britta manipulates Abed into "shooting a movie" instead.
First of all, I loved the movie "Britta's Party." It was hilarious. It was so true to Abed, and all of it just played out so true to character. Danny Pudi is (more or less) the exact same Abed he's always been, and I love it. I've always liked Britta, too. Gillian Jacobs is so wonderful as Britta, and she doesn't Britta it too much. With some cast members missing, it's given Jacobs a chance to move back to the forefront of the show, and I've really enjoyed seeing her take those steps.
I think Community is best when it's Jeff and the Dean (Who could forget karaoke on the day of #AnniesMove?). Jim Rash and Joel McHale just have this really eccentric chemistry. I'm not sure that I could ever find it again, with anyone, so you have to give the casting director who made this happen major props. It was nice to see a feud coming between Jeff and the Dean..and they capped it off with a "ceremony" that Jeff interrupted, which is the closest thing he'll ever do to stopping the Dean from being committed to another man.
This season has been filled with great stories but also great throwaway bits. For instance, when Abed referenced "pop-back gags" and we saw Troy's hands? That was wonderful. And other than shouting something dramatically, this is the first in at least three seasons that we've heard Garrett speak at a normal volume level. Chang has been excellent this season. There's just a whole laundry list of reasons that Community is atop its game, and paying attention to details works perfectly in conjunction with the rest of the show. I'm finding that I will pay really close attention in order to catch every funny thing that's said or done.
Here are some of my favorite quotes/moments from the episode:
-"I have a brain the size of Jupiter. I'm nobody's fourth Ghostbuster."- Elroy
-Abed's brilliant Seinfeld impression…and of the black guy in every sci-fi movie.
-"Gross! Who farted?!?!?"- Chang…while using a virtual presence robot
-The whole bit with pop-back gags. Perfect. And Troy's hands!
-"Britta's Party"…based on a true story of fun and no rules.
-"Where I come from, you accuse somebody of something, you better have evidence…or be a minority!"- Willie, the inmate
-"Mr. Winger…when did you stop being funny?" – Garrett
-"You destroyed his device and his heart, sir."- The Security Guard repeating the Dean
-Prison rules is saying your piece, and Community College rules is a fight. Perfect.
All in all, yet another strong installment of Community. The more gags they come up with for their laundry list, the more I will eat them up. Of course, it's one of my favorite shows, so…can you blame me?
What did you guys think of the episode? Let us know in the comments!
Community streams on Yahoo Screen every Tuesday, beginning at 12am.
[Photo via Yahoo Screen]