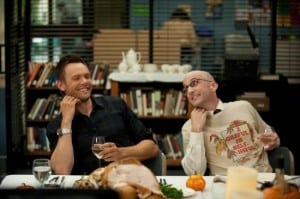 Happy Thanksgiving… in March.
What am I thankful for? Obviously not another episode of Britta pretending to be a psychologist. This was a lovely go-to gag, but I feel they're scraping the bottom of the barrel with this one and should give it a rest. Remember the Britta that was a feminist and used to protest stuff. I miss her.
However, I was thankful for Pitch Perfect's Adam DeVine as Willy Jr., Jeff's insanely insecure younger half brother Willy Jr.. I wish there was more of him and less of Britta (I'm sorry).
In the end, Jeff finally got to tell his father William (played by Josh Brolin) that he was pretty much a broken shell of a man due to his father's lack of interest. William pulled a trick out of the Pierce playbook and faked a heart attack. I wished I could've faked one to get out of watching this useless plot point that we've had to suffer through since the Halloween episode.
While Britta was trying to help Jeff find a relationship with his father and attempting to fix Willy, the rest of the gang was staging their very own Shawshank Redemption from Shirley's Thanksgiving party. Naturally, Abed was Red, but who would be Andy Dufresne? Who would get to escape the horrors that awaited them via Shirley's crazy relatives. Turns our Shirley was the one that needed saving so the gang stuck it out for the sake of their friend. Abed did managed to dig an escape hole in Shirley's garage and cover it with a poster. It was kind of a bummer that Community didn't do Shawkshank justice. At least Abed admitted that. Here's to hoping that the Die Hard Christmas episode a) happens and b) doesn't get the same treatment as Shawshank did in this episode.
Shirley humming Daybreak = amazing! That's one gag I can live with them overusing.