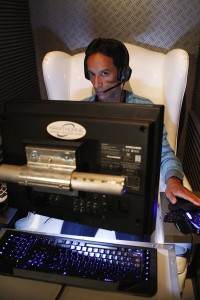 Tonight's three-episode feature of Community proved why the show is one of my favorites currently on television. I mean, where else can you have an hour and a half of a video game parody, an Ocean's 11 homage, and a sandwich shop trial?
Our first hour, 'Digital Estate Planning,'introduced guest star Giancarlo Esposito as Pierce's half brother, Gilbert and threw all our Greendale characters into an 8-bit gaming sequence (that, if I may say so myself, bordered on slightly if not totally brilliant.) The group elects that they're not going to abandon Pierce, nor are they going to let him get screwed over.
In their quest for the Throne of Hawthrone, Abed meets Hilda and agrees to take her out of her horrible video game life. Meanwhile, the group attempts to find ways to survive and win in the video game world. 'We can't get caught up on real world reality,'Jeff says matter-of-factly. Gilbert isn't happy the Greendale group is surviving as well as they are in the game, and attempts to attack them himself. He ends up in an argument with Pierce where he admits he's his true half-brother. Jeff steps in to give his requisite speech (the first of the evening!) and the group comes to Pierce's rescue. Pierce eventually reaches an understanding of the situation and asks Gilbert to 'kill our dad.'In a spectacular show of gaming fun, Gilbert gets the Throne of Hawthrone blown up. Abed comes back for Hilda, and the tag for the episode is a baby (in the game, Abed kept making gaming babies) who actually does mutter 'cool, cool, cool.'Which is kind of brilliant.
The second episode, 'The First Chang Dynasty'was a wonderfully accurate Oceans 11 parody that culminated in the rescue of the real Dean Pelton from the basement where Chang had been holding him captive for some time now. The group attempts to prove to the police that Greendale's current Dean is a 'deanalganger.'Or rather, a 'doppeldinger.'Still confused on which one is correct, but no matter, because no one believes the group anyway, with the police telling him that if they go near Greendale they'll all be thrown out. It's up to the group then to figure out how to successfully infiltrate the school and get back their Dean — WITHOUT being caught.
Chang (Benjamin Franklin Chang!) is trying to figure out specifics of his Changstravaganza birthday, however, he's running into a slight problem between students dropping out of school and his too expensive throne. The group realizes they need someone on the inside to which Troy tells them he can get information — it just means that he would be selling his soul to the air conditioning annex. Troy gets the information anyway, and finds out that Greendale's apparently impenetrable.
Not for the Greendale 7, though! The group devises a complicated plan where they all pose as different people (Shirley as a cook, Troy and Abed as custodians) and perhaps the best part of this heist is Jeff and Britta agreeing to be the entertainment, goth outfits, eyeliner and all. I know a few friends (and the world) who weren't complaining about looking at Joel McHale tonight.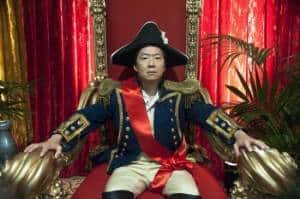 Chang eventually realizes that he's been had and catches them. He throws them into the furnace room thinking he's taken care of the problem, but what he doesn't know is that the joke's on him. The Dean has already been aware for some time that the group was on their way to bail him out, and everything has been a set up to take Chang down and cause his fall from glory.
Once again, Troy realizes the only way to save his friends is to sell his soul to the air conditioning annex and he manages to save his friends by getting them out of the furnace room. The school board catches Chang reprimanding the study group and he tries to play it off as the group's fault, but the board sees right through him. This time, it's the Dean who gets to give the infamous episode ending speech, which ends when Jeff (still dressed in his goth uniform) places his hand on the Dean's shoulder. Gotta love this show. Britta tries to talk Troy out of his decision to migrate to the air conditioning annex, but Troy is adamant and says his goodbyes to his friends who are all less than thrilled at his decision.
Our final episode, and 'official'season finale 'Introduction to Finality'read like a potential series ender and with all the renewals and cancellations up in the air until recently, it's not hard to see why. We find out that Abed hasn't left his apartment since Troy moved out because he's been too sad, while the Dean arrives in his construction uniform to tell the group some exciting news — Subway has ended its agreement with Greendale and the restaurant can now be Shirley's sandwich shop. The group rejoices, but there's one small problem — there's only one person who can sign the waiver and neither Shirley nor Pierce can decide who should do the honors. They want Jeff to help them figure it out with a trail, but Jeff refuses. He needs to pass biology to get his degree, and he doesn't want anything to distract him.
Troy is getting himself settled into the air conditioning annex school but he's missing his friends, something that he gets called out on. Dean Laybourne takes him aside and tries to convince him that this is his destiny. In another destiny moment, Evil Abed appears and tells Abed he's going to go crazy without Troy. He tries to convince him that he'll always be crazy, unless he goes bad and when Britta arrives, she finds Evil Abed with his Evil Goatee taking Good Abed hostage. Damn that darkest timeline! Britta tries to play therapist anyway, though she believes it's in vain.
Troy arrives to an air conditioning emergency call and finds out that Dean Laybourne is apparently dead due to a suspicious inhalation of fumes. With the Dean's death, Troy gets technically released from his air conditioning duties, although he seems less than thrilled with the news. Could his responsibilities be growing on him?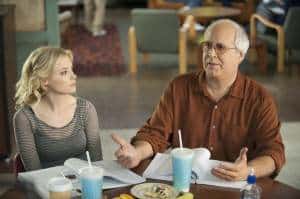 Shirley and Pierce go to trail (judged by Dean Pelton, of course — why waste an excuse for a costume?) where Pierce's lawyer is none other than Alan, Jeff's smarmy friend who landed him at Greendale in the first place for outing him about his made up degree. Alan attempts to threaten Jeff by telling him he'll never get work anywhere unless its with his old firm, while Troy has a crises of his own as he ends up in a challenge to duel for the position of Dean in the wake of Laybourne's untimely demise.
Evil Abed is plotting Jeff's demise (well, okay, just the amputation of his arm) when Jeff makes his classic speech. 'Helping only ourselves is bad,'he petitions, and I can't help but think this has been the theme of the entire season. Troy's friend admits he killed Dean Laybourne, Troy wins his air conditioning duel, Pierce resigns and Jeff wins his trial, and Shirley decides Jeff should be the one who signs the agreement — that way he can represent both of his friends. Britta finds herself wanting to change her major because she doesn't feel like she's been able to do much good as a therapist, but Abed tells her that she did help — in fact, she's the only one he can trust.
The final moments of the episode are a bit of a montage — Britta helping Troy move his stuff, Jeff passing biology and attempting to find out who his father really is, Abed taking down the Dreamatorium…even Starburns makes a return appearance! I can definitely see how this was set up to be a series finale rather than season finale, but all I have to say is six seasons and a movie. Yes, that's right. #sixseasonsandamovie.
The tag is Leonard's Food Reviews (Let's Potato Chips.) Because we should all trust Leonad's food choices, obviously!
And so, with that, we say goodbye for Community…but thankfully, just for the summer. Because our Greendale 7 will be back next year, and even though we may only get 13 episodes of zaniness, I'm just glad we're getting anything at all. I hope you enjoyed the recaps! Stay tuned to TVOvermind for all the latest Community news, and see you all in September!
Tell us what's wrong with this post? How could we improve it? :)
Let us improve this post!