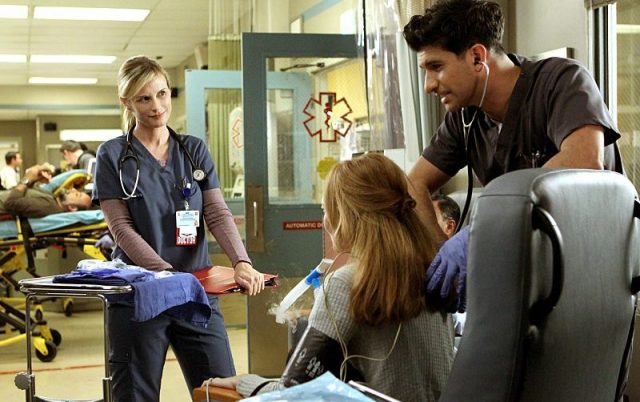 It's been announced that Code Black on CBS is coming back without two of the show's favorite characters: Dr. Neal Hudson (Raza Jaffrey) and Christa Lorenson (Bonnie Somerville). Why? It depends on how much you want to read in-between the lines. Here's the way Deadline starts their news announcement:
CBS' freshman medical drama Code Black clinched a second season renewal based on a pitch by creator/exec producer Michael Seitzman that included changes for Season 2 and a structure resembling real-life that includes a revolving cast of younger cast members.
Translation: in order to get a Code Black season 2, the show's creator and executive producer, Michael Seitzman had to find a way to make the show more palatable to that elusive 18-49 demographic that network shows love to chase. At least that's what it sounds like. Especially when you see the characters that have been promoted to show regulars.
Jillian Murray will be returning full-time as surgical resident Heather Pinkley. Yes, the one who had sex in the locker room with resident Mario Savetti (Benjamin Hollingsworth) while sleeping with her attending Dr. Will Campbell (Boris Kodjoe). In the Code Black season 1 season finale Heather was blackmailing Dr. Campbell to keep quiet about her using his prescription pad to write prescriptions for the ADD drug Adderall – to keep her alert through those killer rotations. She also got resident Angus Leighton (Harry Ford) hooked on the stuff.
With Heather and Campbell characters becoming full-time it's hard not to think that a suggestion to Seitzman was made about making more of the cast – and the characters – younger and hotter. Christa and Neal – played by the seasoned and sexy Jaffrey and Somerville – had storylines made for grownups – and by grownups I mean anyone over thirty. What's interesting to me is that supposedly the target audience for CBS isn't the 18-49 demo. It's 25 – 54 (Ad Age).
However, Code Black is a joint venture between CBS and ABC Studios. ABC's studio is the home of Grey's Anatomy, so perhaps there's an idea about trying to duplicate that success? Maybe, but the idea doesn't quite fit – since it seems like doing that would warrant keeping Christa and Neal. ABC Studios also signed off on trying to turn its show Castle into a more college-aged frat-boy kind of show and thought it would be fine to fire the co-lead Stana Katic and do a season nine without her – despite the romance between her character and the title character being the show's engine for eight seasons. With this move for Code Black season 2 one starts to wonder if – outside of Shondaland – mature romantic relationships in a dramatic format are allowed at ABC Studios. They're no way to tell who made this call, but CBS has many shows that have well-structured romantic components.
At the end of it all, the truth is that the show being a creative venture between them and CBS. The two companies have some very difference aesthetics, so in working together compromises happen – don't jump to blame the showrunner. After all, he doesn't sound thrilled about this either.
No answer I give will be satisfying to either of us. It sucks. I'm with you on that. https://t.co/uqZ4q9GfUm

– Michael Seitzman (@michaelseitzman) June 4, 2016
On the other hand, Seitzman is excited about some of the new characters and stories they'll be bringing in. Some of the other changes include a new set of residents, not that we'll lose any season one characters aside from Christa and Neal. Neither is this about budget cuts. Deadline points out that Code Black will boast one of the biggest casts on television" – plus a big guest cast. They also say that Marcia Gay Harden who plays Dr. Leanne Rorish will be back along with "a male co-lead." With any luck that will be the head of Angels Memorial Dr. Ed Harbert played by Jeff Hephner. Aside from Christa and Neal, that was a connection that seemed like it could be interesting. Heather's blackmail scheme with her attending…not so much.
What's difficult is that it felt like Code Black had, through a series of tweaks during its first season really developed itself into a powerful show, but that it's letting go of a big chunk of its foundation. The Heather, Mario, Angus stuff, and the thing with her and Campbell were the show's weaker stories while Leanne, Neal, and Christa felt like the show's anchors. As such this news of the show cutting Christa and Neal does dampen my enthusiasm for Code Black season 2.
Neal and Christa isn't just about losing their romance. They were rich and nuanced characters individually as well. The show had set up an intriguing overlapping triangle dynamic with Campbell, Dr. Grace Adams (Meagan Good), Neal and Christa. We had Neal being caught between his past and his present, in terms of Grace and Christa. Then there was Christa's development as a truly great doctor while being supervised by Grace. There's the animosity between Neal and Campbell, even as they could learn a thing or two from each other, plus they both had interest in Grace. These were things I was looking forward to seeing explored in Code Black season 2. On a separate note, both Christa and Neal had special connections to Leanne. In cutting these two characters the show is losing many of the storylines and relationships it had built for the audience over its freshman season. Now Code Black season 2 feels like it's going to be a season one,"do over" and that risks losing some of its current audience.
Still, the writing on the show has always been remarkable in being able to handle multiple stories with many different characters and we don't know what the new characters will be like. Nor is it like they've brought in new showrunners. Looking on the positive side, at least this change isn't happening in season four or eight and the rest of the season 1 cast is still on-board. This means that means head nurse Jesse Salander, aka Mama (Luis Guzmán) and the feisty lesbian resident Malaya (Melanie Chandra) are back. Via twitter, Seitzman is asking fans to give Code Black season 2 a chance.
Nothing easy about this. They'll be missed terribly. But we move forward with a wonderful cast and hope you watch. https://t.co/YrcIf6PWxq
– Michael Seitzman (@michaelseitzman) June 4, 2016
Seitzman also tweeted that the show is tentatively set to return on Wednesday, September 21 2016 at 10pm ET on CBS. While the powers that be may have some off-base ideas about what makes this show a good one, because it's had some great writing in the past, I'm willing to see what Code Black season 2 has to offer. Are you willing to give it a shot? Let me know in the comments if you'll be tuning in!