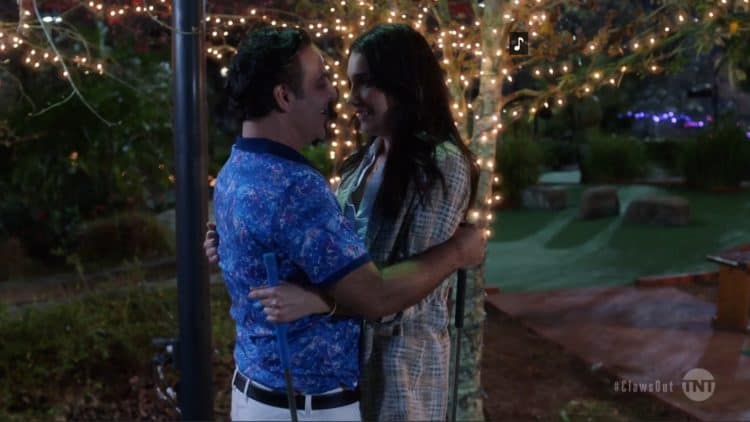 Things got a bit shaky on Claws Season 4, Episode 3 as Desna and the ladies officially launched their "multi-level pill pushing organization" with their best clients as their salesperson. However, lately, Desna is pushing everyone to the edge and her controlling behavior threatens to compromise everything that she's working on.
A Thief In The Night
On Claws Season 4, Episode 4 everything seems to be going well in Desna's new business endeavors. But good things never last forever. In the first few minutes of the show, Dean announces that he wants to become a midwife. He reveals his new interest in this profession after he drops the bomb that he's Quiet Ann's partner at her weekly birthing classes. As expected, Desna is pissed and demands that Dean stays away from Quiet Ann. Dean reminds Desna that he can make his own decisions, especially since they signed a contract that granted her only "sibling" rights over his life. Desna names Bambi as Sales Consultant of the month and takes the crew out to celebrate. But that's before she discovers that someone is stealing. Whoever the culprit is they have been relabeling them bottles and up-selling them for more money.
The Shenanigans
Meanwhile, Polly is still up to the same shenanigans and she invites Polly to invite Virginia to be part of her mess. The baron has a friend named Joyce that's dying who wants to learn how to sell drugs as part of her bucket list. At his friend's request, Molly helps the baron's friend peacefully overdose on Oxy and finds her calling as a doula. Clay has his eyes set on a young and upcoming fighter Rolf. When Rolf fails to show up, Clay throws Bryce into the ring. Bryce is apprehensive about getting in the ring with this 250-pound professional fighter but he refuses to back down, especially when Rolf taunts him about being afraid. Poor Bryce is going to die trying to prove his worth to Clay.
Who's The Traitor?
Desna is on the hunt for the traitor that has been stealing Oxy from her shop and selling it under a new label. At first, clues lead her to Ann and the blowout between the former best friends gets dirty. Ann denies stealing the Oxy, Desna believes she he somehow connected to the theft until she receives a call about a break-in at the shop. Let's take a minute and give Georgia props for her skills. When Desna and Virginia arrive at the shop, Georgia has the burglar tied up and gagged on the floor. Georgia was at the shop fine-tuning her skills when the thief broke in. At some "persuasion" the burglar tells Desna that he was hired by someone that works at Lou's Desna and the ladies pop up at Lou's Auto Body and find out that Bambi, the top salesperson is the culprit. Bambi admits to stealing after falling on hard times. Desna punches Bambi right in the face and has the girls tie her up. Jenn doesn't know just how far Desna is willing to go to punish Bambi and she tries to get her to calm down after all they are not killers. But Desna is not hearing it. Bambi and Desna get into a scuffle and Desna accidentally kill Bambi in self-defense.
Social Services
Everyone except Desna is shaken up by Bambi's death. " Bambi got what she deserved," Desna tells the ladies with no remorse. Jenn is starting to question her partnership with Desna. This business deal has caused nothing but chaos and drama in her life. However, the real stress comes when Jenn gets a call from the police station saying that her kids are with Child Protective Services after Bryce failed to make it home in time after the sitter left.
Final Thoughts
Desna and Quiet Ann's beef is getting old quickly, hopefully next week's episode will deviate a little bit from that storyline and focus on Jenn and Bryce getting their kids back. Jenn and Bryce have been distracted lately trying to meet the sometimes u realistic demands of their employers. At some point, we predict that their going to pull away from Desna and Clay to focus on their family. Desna's attitude this season is unbearable. Bambi's death could eventually result in the ladies pulling back once they realize that their treading very dangerous territories. If Desna wants to build an empire and get bs k everything she has lost, she's going to have to take a chill pill or two and trust in her crew.
Tell us what's wrong with this post? How could we improve it? :)
Let us improve this post!