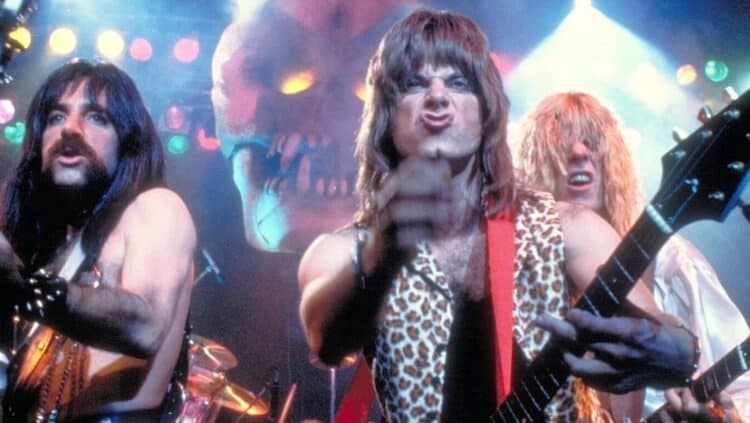 This Is Spinal Tap is as intriguing of a documentary as I have ever seen without being a documentary. Not only did this film give wide recognition to the emerging sub-genre of documentary films known as "mockumentaries," but it also helped to redefine and even revitalize the behind-the-scenes rock band type of documentary that would be revitalized in the 1980s, with Depeche Mode 101 being a particular standout. From a wider analysis, it is obvious that Reiner is intent on making a film that manages to satirize and parody the notion of "rock gods," which in the 1970s and most of the 1980s was an era of intense fandom surrounding both the sound and energy of hard rock, as well as the sexualized and mythologized notion of the performers in a group. But the movie also stands up as a unique comedy all its own. A certain brand of comedy that inspired practically every type of "fake" persona, news broadcast, or comedy troupe since, with everything from Borat to most of Comedy Central's scripted shows. With an influence as strong as that, it is important to look back and remember just why This Is Spinal Tap is such an important film not just in terms of comedy, but in documentaries as well.
What Is the Movie About?
The film is bitingly funny, but the true brilliance of the film comes across in how Reiner fictionalizes everything while presenting the film as a tried and true rock documentary. The caveat is that he is managing to point out some absurdities of rock iconography as the subliminal subtext of it all. Even Reiner himself plays a fictional documentarian named Marty Di Bergi, and in a way, he is poking fun at some of the more sycophantic rock and roll documentarians in how even the most absurd actions of the members of a rock band are akin to witnessing the second coming. There is a scene early in the film when Di Bergi is interviewing the band about their origins. The scene is nothing out of the norm if you have ever seen a by-the-book rock documentary, but Reiner is exposing some of the innate banality that is frequently espoused by popular music groups, chiefly the fact that Spinal Tap was nothing more than a commercialized trend moving through the times and styles of what was popular at the time. Through many scenes like this, we see how this film is bot mimicking the standard rock documentary format with easy questions to the band members but Reiner's dialogue and standard interview format reveal what makes this a mocking commentary on what audiences have come to suspect from a rock documentary. The film's narrative is propelled by scenes like this in the interview format as well as a mocking interpretation of DA Pennebaker's cinema verite in the scenes that simply follow the band in their humorous encounters.
What Makes the Movie Unique?
Rob Reiner had a comedic background, therefore, it can be said that for his first film, he would want to deliver a comedy–but the brilliance of using the documentary format to make a satirical comedy posing as a rock documentary is what makes the film so unique. But there are some attributes to heavy metal music in particular that Reiner likely saw as negative and wanted to highlight that heavy metal musicians are mired down in textbook masculinity. Carl Plantinga writes, "Heavy metal's emphasis on male power is sometimes manifested in celebrations of the domination of females and defines femininity as passive and erotically available." Therefore, Reiner highlights the absurdity of immature behavior from middle-aged men and allows us to see that it is okay to laugh at how wrong the energy of the music sometimes is even though it may be pleasing to its listener's ears. Reiner's use of a documentary format is a way to spoof these attributes in a way that registers as seemingly real to audiences, which is what nonfiction films provide for their audiences. The humor is more real and more audacious.
Legacy
What is most interesting when looking at this film's influence over the years is observing Reiner's directorial works and noticing that there are documentary elements to be found in many of his films. My personal favorite is Stand by Me, and the use of narration and even some aspects of cinema verite can be found in how that movie is filmed. Similarly, the tone and style of this film can be found in a wide variety of genres, most interestingly of all in The Blair Witch Project. Although not a mockumentary (debatable in my opinion), it does provide an example of how even drama and serious themes could also potentially fall into the category of mockumentary, but only if a viewer looked at the proceedings in The Blair Witch Project as satirical–which in a way, some viewers do find it to be darkly humorous and a send-up of familiar horror cinema tropes. These examples show how mockumentary is suggesting that all the seriousness and pretentiousness that can become attached to certain filmmaking styles and approaches to subjects–like rock gods–deserves a satirical and comedic approach to allow alternative opinions to also be explored. It could be easy to say that This Is Spinal Tap works simply because it was a pioneer in the field of mockumentary–but that is only one reason. Reiner exposes to audiences the sometimes absurd behavior that fans of rock music can exhibit when they are in the presence of their idols, and even more, the behavior of those idols is just as common as the fallacies inherent in their fans—mythologizing a heavy metal performer is only as viable as never allowing the daylight in upon the dark magic—because that shining light can shatter the illusion. This is true of any genre and any fandom. For all of these reasons, and many, many more, This Is Spinal Tap remains the undisputed Citizen Kane of mockumentary films.